If you are looking into building your first DIY e-bike, you will probably find that a lot of builders are using the Bafang BBS02 mid-drive motor conversion kit. You might wonder: "why are so many people using this kit?" and "is it really that good?". In this review, I will give the answers to all these questions by giving an extensive review of the Bafang BBS02.
What's included in the kit?
All different versions of the Bafang mid-drive motor kits include all the parts you will need to convert your bike into an electric bike. The only extra part you will need is a suitable battery. Some sellers even sell the Bafang BBS02 kits together with a battery in one package. If you go for such a kit, you will have everything you need for a DIY conversion. At the end of this review, you can find some of my recommended sellers where you can buy those kits.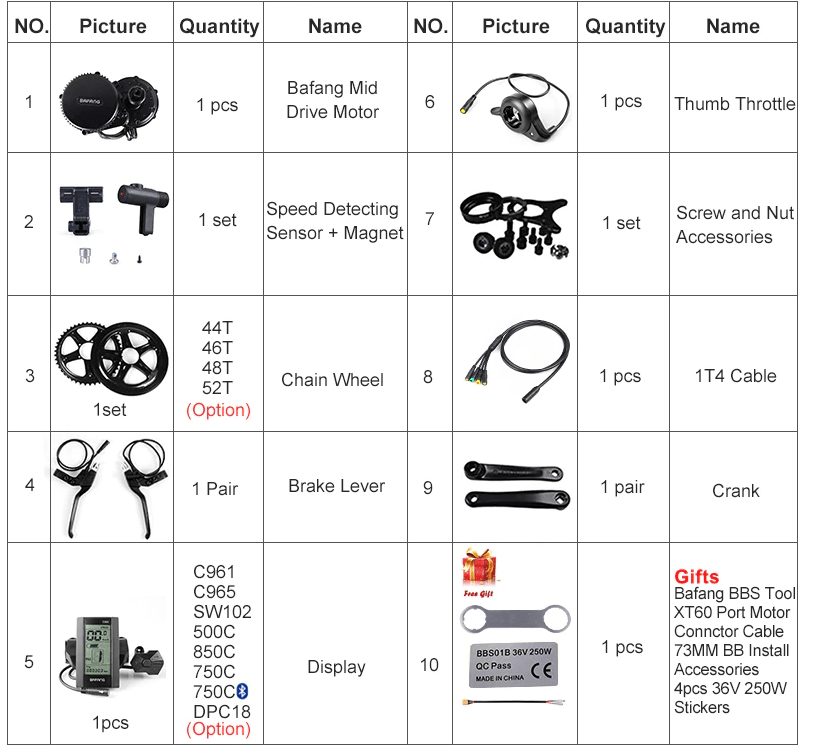 A Bafang mid-drive motor kit will include the following components:
A motor unit with integrated controller (500W or 750W)
A display (DPC18, P850C, P860C, 750C, SW102, C965 or C961)
A chainring (44T, 46T, 48T or 52T) + plastic guard
Brake levers with integrated cut-off switches (or hydraulic cut-off sensors)
Throttle (generally a thumb throttle style)
Speed sensor + magnet
Wiring harness
Two crank arms (left and right)
Mounting hardware
Bafang lock ring tool (not always included)
You can see that with 4 components you have to make a choice: "How much power do I want?", "Which display should I go for?", "How big should my chainring be?" and "What kind of cut-off switches do I need?" The following 4 sections will guide you through these choices if you would decide to buy a BBS02 kit.
How much power do I need?
For the BBS02 there are 2 different power levels to choose from, either 500 or 750 watts. The power levels that are indicated, however, aren't completely accurate. In practice, both versions, output more power than indicated. This is the case because of the controller that's inside, which can handle more power but is sometimes limited by software settings. I will show the maximum power each motor version can output, assuming that it's maximized in the software.
| | | |
| --- | --- | --- |
| Version | Maximum controller current | Maximum output power |
| Bafang BBS02 500W 48V | 18 Amps @ 48V | (18 x 54.6) = 983 watts |
| Bafang BBS02 750W 48V | 25 Amps @ 48V | (25 x 54.6) = 1365 watts |
As you can see, the actual maximum power of the motors is much higher than specified. You can increase the power even more by going with a 52V battery. I, however, do not recommend doing this, because the controllers are not designed for 52V batteries.
So which options should you go for? In my opinion, I would always go for the BBS02 750W version. This version has a beefer controller and can, therefore, handle more power. If you don't need that much power, you can always lower the power in the software. If you ever need more power with the 500W version, you can't do this. So the 750W version simply just gives you more overhead and flexibility.
Which display to choose?
Generally, it doesn't really matter which display you choose. The difference between the displays is mostly esthetic, you just choose the one you think looks nice and displays the information clearly. All displays have the exact same functionality, the only exception being the USB port for charging. The P850C, DPC18 and 860C displays have a built-in USB port from which you can charge your phone for example. So if you really need this feature, you should go for one of them. My recommendation would be: If you want the cheapest option –> C965, If you want the nicest looks –> P850C or DPC18.
How big should my chainring be?
Choosing the correct size chainring for your bike can be a bit tricky. If you order too big of a chainring you can have clearance issues. The first thing you should do to determine which size chainring you need is: Checking the current biggest chainring size on your bike. Let's say you have a 3-speed front derailleur, and therefore also 3 different size chainrings. You will now look at how many teeth the biggest chainring has. If you know how many teeth your current biggest chainring has, you will now go for the chainring option closest to that number.
So if your biggest chainring is a 42T, you will go for the 44T. If you are in doubt between two sizes, always go for the smaller option. The smaller the chainring, the less chance of clearance issues. If you still encounter clearance issues then there, fortunately, is a solution for this. In that case, you can order these spacers. Those spacers will bring the motor a little bit outwards so that the chainring will clear the frame.
Which cut-off switches?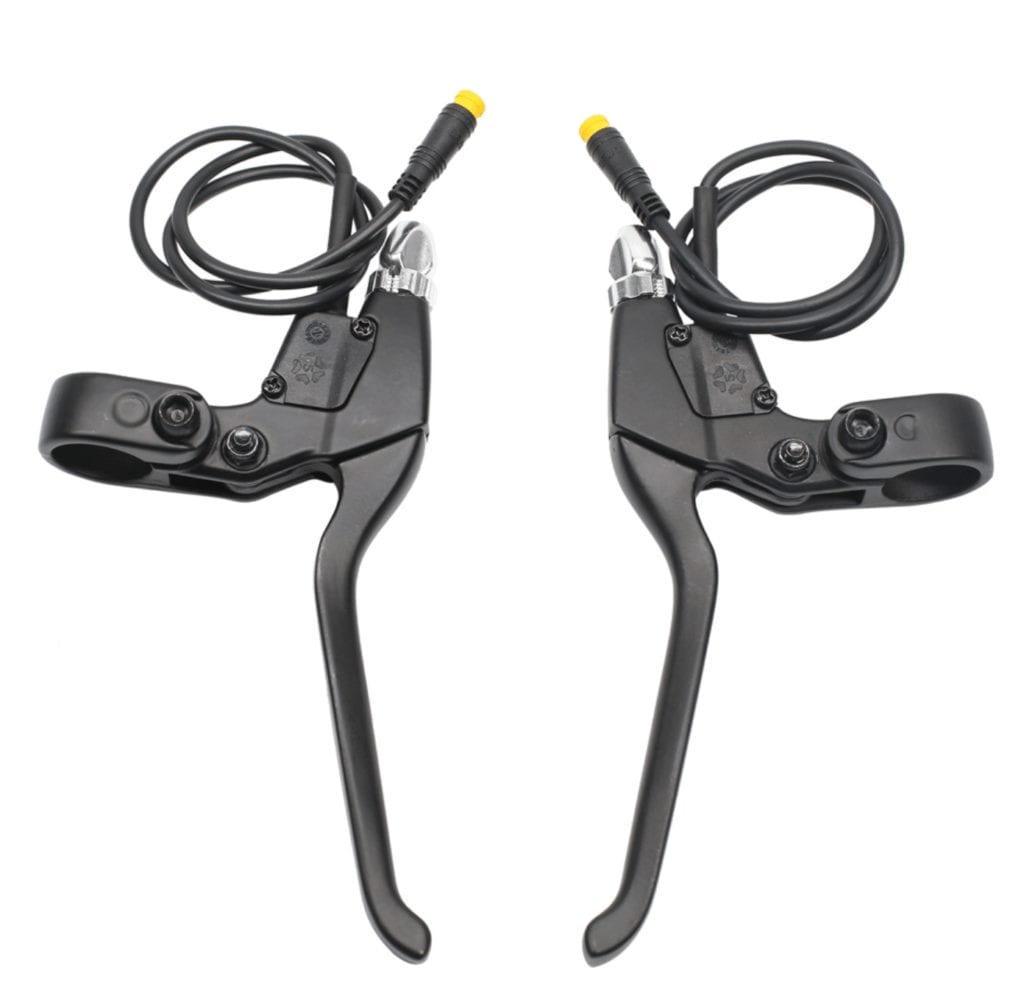 Determining which type of cut-off switches you need is really easy. If you have cable brakes, go for the brake levers with built-in cut-off switches. You will just replace your current brake levers with these. If you have hydraulic brakes, however, then you will need to go for the hydraulic cut-off switches. These switches can be stuck to your existing hydraulic brake levers. You, therefore, don't have to replace the entire brake levers, which would be really hard on hydraulic brakes. Sellers on Aliexpress often replace the brake lever cut-off switches for hydraulic cut-off switches for free if you ask them.
Installation and compatibility
The Bafang BBS02 mid-drive kits can be installed on bikes with 33.5 mm diameter bottom brackets with a width between 68 and 73 mm. These are common dimensions on bikes, the kit will therefore fit most bikes perfectly. Your bike does have to have a removable bottom bracket, this means that the bottom bracket can be unscrewed. Some bikes (mostly expensive bikes) feature pressed bottom brackets, which can not (easily) be removed. If your bike has a bottom bracket of this type, this kit can't be installed on it. If you are not sure if your bottom bracket is removable, ask your local bike shop, they can tell you just by looking at it. The other requirements that your bike has to meet are pretty obvious like:
The bike should be chain driven (not belt driven)
Disc brakes are recommended so that you can stop quickly
The bike shouldn't have a chainguard
Derailleur systems are preferred over IGH systems (derailleurs can handle more power)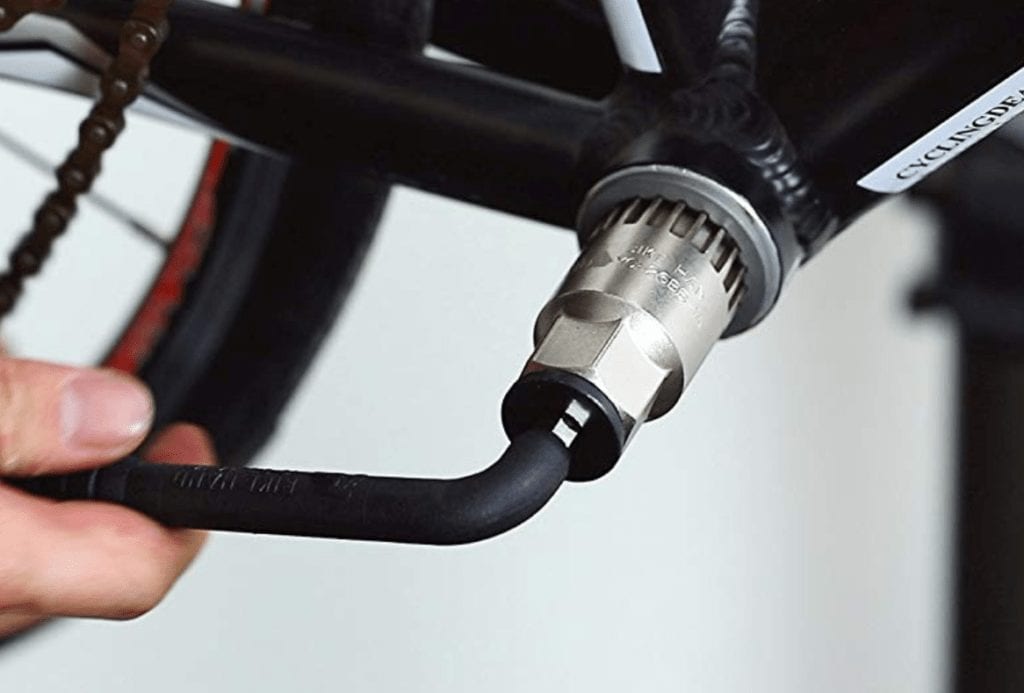 There are lots of really detailed installation guides that can help you install this Bafang BBS02 kit. I can recommend this installation video, which also mentions which tools you will likely need.
Buy the Bafang BBS02 @Aliexpress – Global shipping:
Reprogramming ability
The Bafang BBS02 mid-drive motor's parameters can be changed using a programming cable and special free-to-download software. This programmability function makes the Bafang BBS02 even more versatile, you can really tweak it to your liking. You can alter settings like: maximum power, PAS behavior, throttle behavior, and more. Reprogramming a Bafang BBS02 motor should be done with care though since it can harm your motor if done incorrectly. The stock settings out of the factory are excellent most of the time and don't have to be changed. If you however do want to change some settings, please following a detailed guide. I can recommend this guide.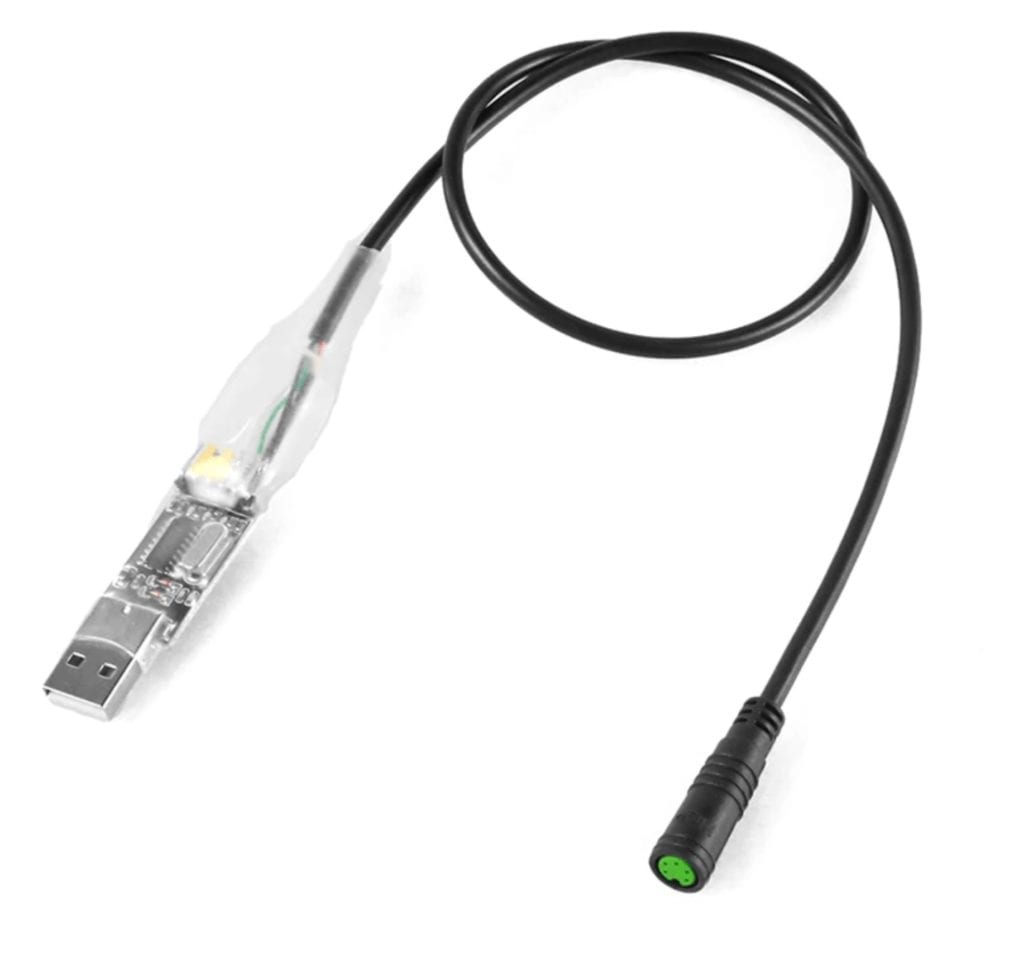 Performance
The BBS02 motor really is a small little beast. It can output a lot of power and will get you up to speed really quickly. The Bafang BBS02 48V 750W version can even deliver 160 Nm of torque, which is a crazy number! This is enough torque to get you up any hill.
The fact that you can still use your gears makes it even more versatile. You can use a low gear for climbing and a high gear for high top speeds. If you are planning of using your gears a lot, I would recommend installing an additional gear sensor. This sensor will cut off power when the gear switching action takes place. This will prevent your derailleur, cassette, or chain from breaking when you accidentally would switch gears under high load.
A stock 750W version most of the time is set on 18 amps maximum out of the factory, this will give you roughly 900 watts of power. These 900 watts will easily bring you up to speeds of 50km/h (31mph), which is truly stunning!
Ride and feel
The Bafang BBS02 mid-drive motor really provides a stunning ride. The pedal assist uses a cadence sensor to determine how much power to assist with. This system works really well and I would say that its the best cadence-based pedal assist on any conversion kit. You can also control the motor with the thumb throttle. This can be very convenient when you want to be the first off the line at a traffic light for example. You will find that you will mostly use the throttle in such a way: to give you that initial push when you want to accelerate from a standstill position. It really makes cycling such a breeze. The throttle could be better however since the controllability isn't all that refined. It will mostly either go or not go, with not a lot of control in between, therefore making it hard to precisely control your bike using only the throttle. But if you use it together with the pedal assist, it's an absolutely awesome and fun feature to have! You will have the best of both worlds, which will give you a really versatile bike.
A mid-drive motor, in general, is positioned in a nice way on the bike. The weight of the motor is low down and centered on the bike. This gives the bike a great balance which will result in excellent corner handling. The motor also runs really smooth and quiet, which makes it feel like a more expensive motor than it actually is. All in all, it's just a really well-put-together system. You will be amazed by how excellent this conversion kit rides.
Build quality
The build quality of the Bafang BBS02 conversion kit can be called excellent. The motor and controller are enclosed in a sturdy black metal housing that feels expensive. The metal housing is painted nicely and doesn't suffer much from rust over time. Only certain parts of the motor can become a bit rusty when damaged or scratched, but nothing crazy. The enclosure is also waterproof and holds up well in the rain, but it's ofcourse still best to avoid the rain as much as possible. All connections are nicely waterproofed as well.
Reliability and problems
Unfortunately, reliability is not where the Bafang BBS02 shines. You could say that this is the only aspect where the BBS02 motor kits fall behind. The reliability issue has mainly to do with the built-in controllers. The built-in controllers tend to fail more often than you would expect. In my experience, 1 out of every 6 controllers would fail on average. These controllers were all run on the recommended 48V @ 18 Amps, so the controllers weren't even maxed out to their 25 Amps potential. Still, these controllers that were configured conservatively would fail sometimes. So Bafang really has some work to do on their controllers' reliability.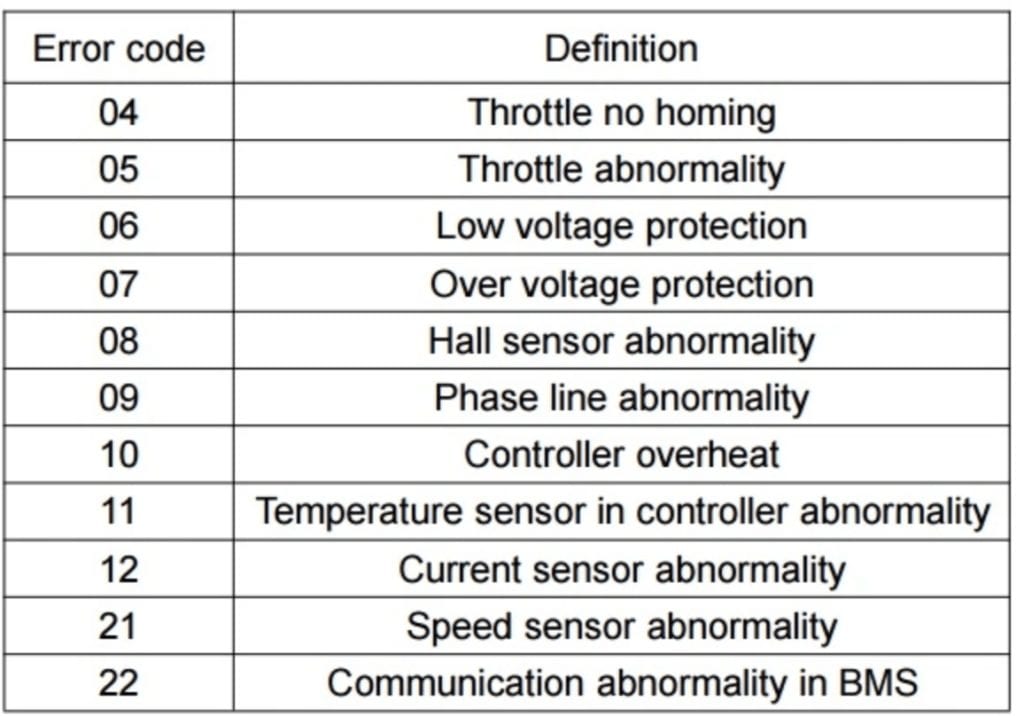 Broken controllers luckily can be swapped out relatively easily, there are a lot of instruction videos available on how to do this. Replacement controllers cost around 100 USD. Fortunately, a lot of sellers ship out replacement controllers for free if you are still in the warranty period (1 or 2 years). So most of the time you can do a replacement for free. I think these controller problems shouldn't prevent you from buying this awesome piece of kit, but it's definitely something to consider.
You can also experience problems with your drivetrain, this however can't be blamed on Bafang. The motors are just so powerful that they wear out your chains and cassettes much faster. So periodic maintenance is a necessity for powerful mid-drive motors (> 500 watts).
If you want the best reliability and low maintenance, you should go for a Bafang hub motor conversion kit. Such a kit is really reliable and doesn't require a lot of maintenance. You will, however, have to sacrifice the great versatility, power, torque, and convenience of the Bafang BBS02 mid-drive motors.
Buy this Bafang BBS02 conversion kit @Aliexpress – Global shipping:
Conclusion
The Bafang BBS02 mid-drive conversion kit really is a great conversion kit. The motor has the best-in-class pedal assist, is build nicely, offers a lot of power and torque, is really versatile, and can be installed relatively easily. The only aspect where it falls a bit behind is its controller reliability.
So if you are looking for the best mid-drive conversion kit for your DIY e-bike, you shouldn't look any further! The Bafang BBS02 offers amazing value for money and you will be amazed by its performance. It's just an absolutely great piece of kit!
| | |
| --- | --- |
| Power: | (5.0 / 5) |
| Torque: | (5.0 / 5) |
| Pedal assist: | (4.5 / 5) |
| Build quality: | (4.5 / 5) |
| Low maintenance: | (3.0 / 5) |
| Reliability: | (3.0 / 5) |
If you have any questions, want to start a discussion, or need some support, please use the comment section below. I will respond to you within 24 hours.