The Bafang hub motor conversion kits are less known than the popular mid-drive motors (BBS02 and BBSHD) from Bafang. I think the Bafang hub motor kit is one of the most underrated conversion kits in the DIY ebike community. For most builders, this conversion kit will be a lot more suitable than the mid-drive motor kits from Bafang. In this extensive review, you will find out why this is the case.
What's included in the kit?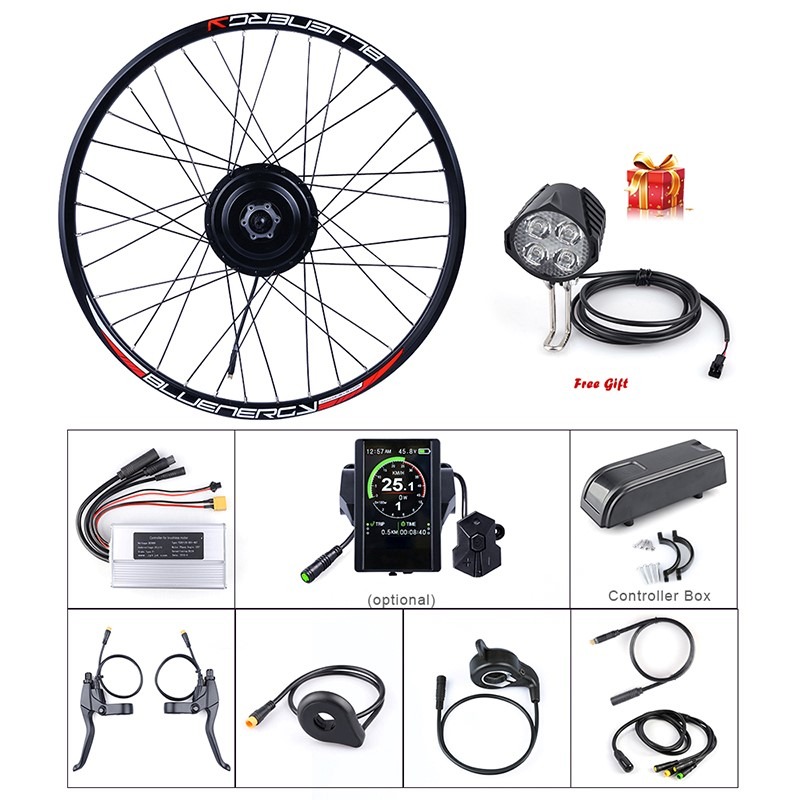 A Bafang hub motor kit always includes the following components:
The Hub motor itself (spoked in a rim)
A controller (48V, 22A, sinewave or blockwave)
A display (P850C Or KT-displays)
Wiring harness
PAS sensor
Throttle
Brake lever switches
Mounting hardware
There are just a couple of components that you will have to buy separately in order to convert a complete bike. These are the following components:
Power/size options
The Bafang hub motor comes in two main power options. A 500-watt version and a 750-watt version. The 750-watt version is however only available for fat-bikes. So we will mainly look at the 500-watt version. You might think that the 500-watt version will draw only 500 watts of power. This, however, isn't the case. The power that the motor will draw depends on the controller that goes with it. Most of the kits include a 48V, 22A controller, this will result in a peak power rating of almost a 1000 watt. With a beefer controller, it can even handle 1500 watts, but this isn't recommended though. So don't be fooled by the "500-watt" label, since it will just be an 800-1000 watt motor in practice. Which is more than plenty for most riders.
Wheel sizes
The Bafang hub motor can be bought in almost all common wheel sizes, ranging from 26 to 29 inches. As said before, the 750-watt version is always spoked in a wide rim for fat bikes. The 500-watt version is spoked in a normal width rim so that it can fit most bike tires. The Bafang hub motor also comes in a front-wheel version. I however do not really recommend that version, since you will then have a lot of power in a relatively weak front fork. So if you have the option, go for the rear-wheel version. It will ride nicer and definitely will be safer.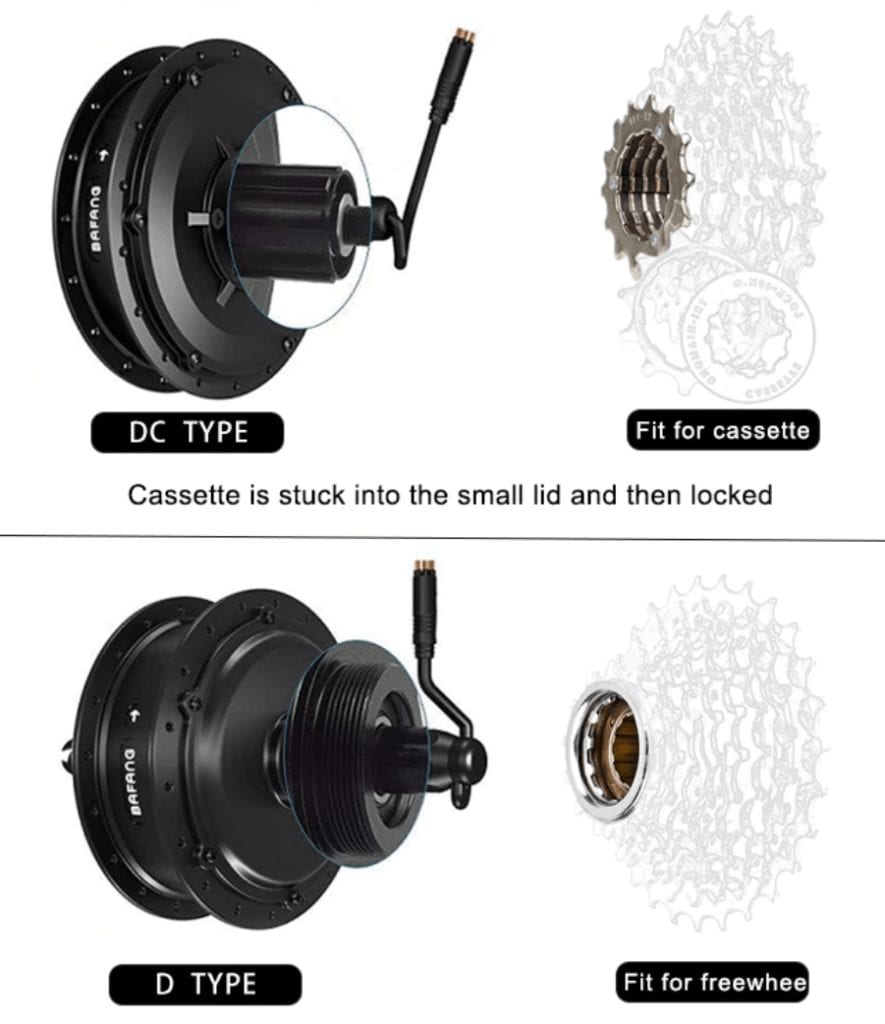 Cassette or Freewheel?
If you go for the rear wheel version, you will have the option for a cassette mount or a freewheel mount. You will have to choose the same mount that your "old" rear bike wheel used. This way you can change the cassette or freewheel over to the hub motor. Be aware that the maximum size cassette you can fit is a 10-speed. This will just barely fit and mounting it will be difficult. So I recommend an 8 or 9-speed cassette max.
Rim or disc brakes?
You will also have to make the right rim choice depending on which type of brake you will run. If you have rim brakes on your bike, you will need to buy a version that has a brake strip on the rim. Most sellers sell rims that have such a brake rim as standard. If they don't, you can always ask if they can deliver a rim with that brake strip as well. If you are running disc brakes (highly recommended) you do not need that brake strip. You could ask sellers if they also sell blank rims in your desired color. A lot of sellers offer this and it will make your bike look much nicer. All the different Bafang hub motor versions have disc brake mounting points as standard. So you don't have to worry about this.
Which controller and display to choose?
The Bafang hub motor often comes in two different kit types. One with a sinewave controller and P850C display or one with a blockwave controller and a KT-display. Which option is most suited for you depends on your preference. A sinewave controller is always better than a blockwave controller because the motor runs quieter and smoother with a sinewave controller. The sinewave controller however always comes with a P850C display. It's a really nice display, but it lacks in the number of settings you can change. Your bike will be less configurable than with a KT-style controller/display. The problem is that the KT-displays always come with a blockwave controller. So this isn't ideal either.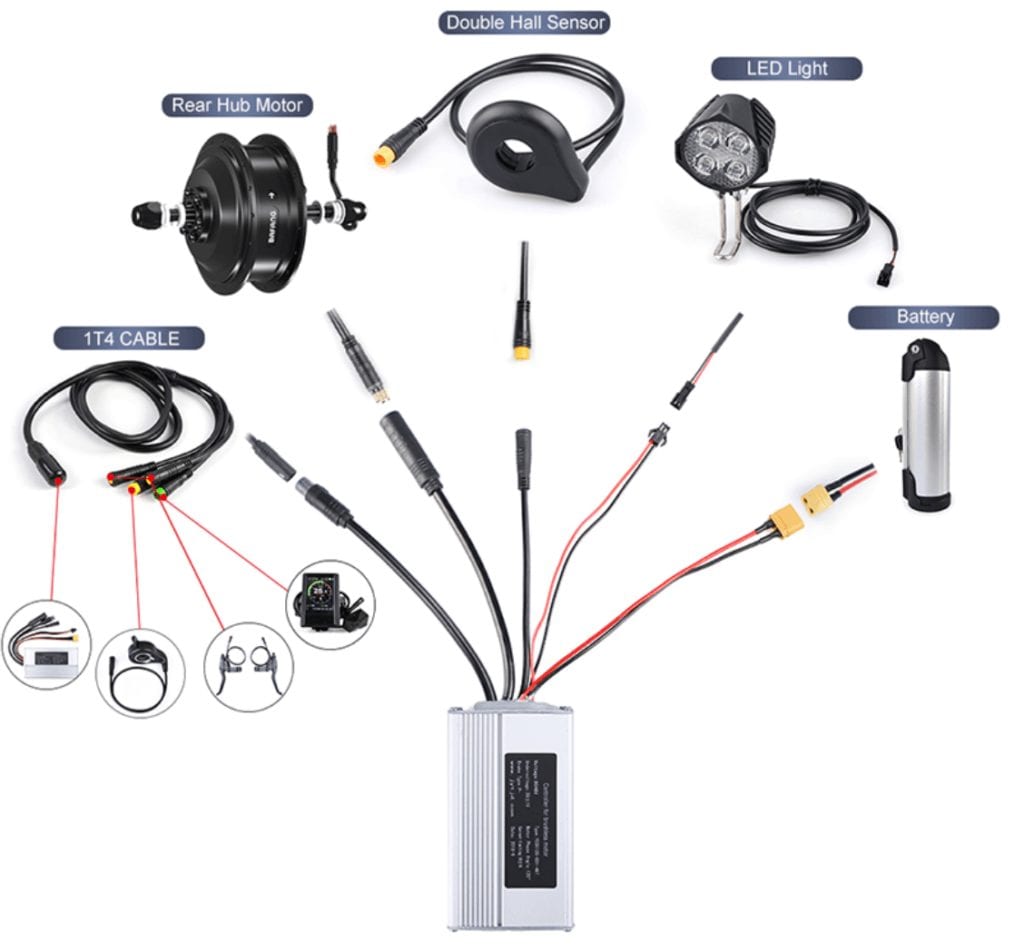 Best option
In my opinion, the best combination would be a sinewave controller with a KT-display. There are however no sellers that currently sell this combination. Because of that, I would still go for the P850C display in combination with the sinewave controller. It will give less flexibility but the display does look nicer and the sinewave controller will make your bike drive more pleasantly.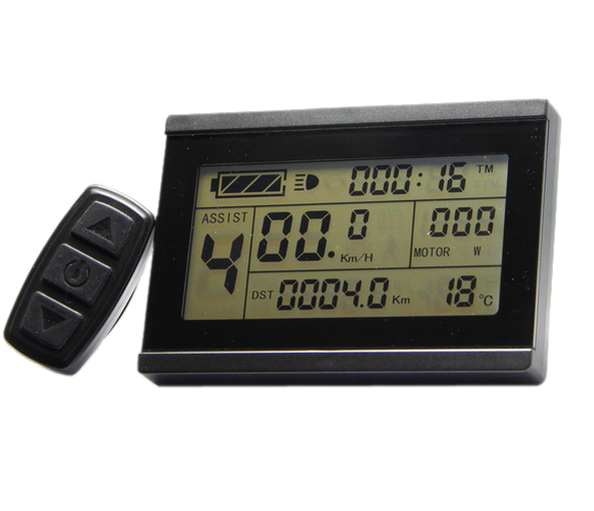 Installation and compatibility
The Bafang hub motor will fit almost all bikes that have a frame with a dropout. Most bikes have such a generic dropout, with the exception of expensive "trough axle" type mountain bikes. If you go for the rear wheel version, the dropout width will depend on the number of gears you will run.
| | |
| --- | --- |
| Single-speed | 120 mm |
| 6 speed | 130 mm |
| 7 speed | 138 mm |
| 8 speed | 140 mm |
| 9 speed | 142 mm |
Dropout width chart
Most bikes will meet this specification. If you don't have quite enough space, you will be able to torque the frame a bit outward. This won't cause any problems as long as you don't torque it too much.
If you want the most sturdy PAS sensor option, you will also need a removable bottom bracket. This way you can mount a sensor between the bottom bracket and the frame. If you don't have a removable bottom bracket or don't want to remove it, you can also buy external PAS sensors.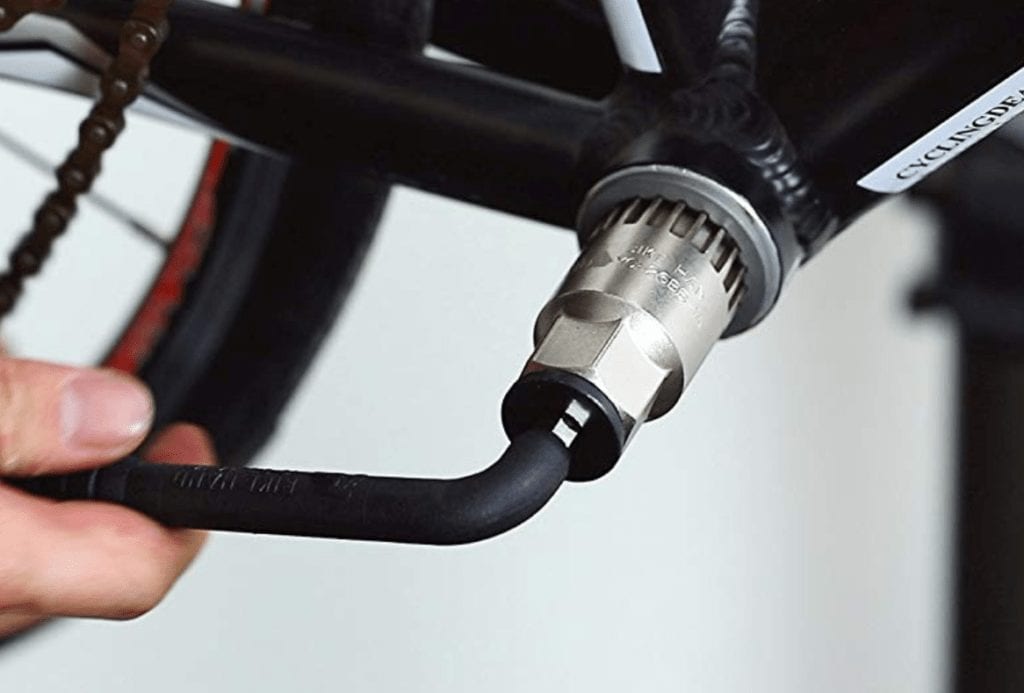 Required tools
Installing the hub motor is pretty straightforward. With the help of good install videos, everyone should be able to do it. You will only need a few special bike tools, like:
All the tools are fairly inexpensive and are just nice to have in general. If you don't want to buy the special tools, you can also ask the local bike shop if they can help you out with their tools. They can swap a cassette/freewheel for you really easily. They can also help you remove the bottom bracket. So if you don't feel like doing it yourself, your local bike shop can probably fix it for you in a matter of minutes.
Buy the Bafang hub motor kit @Aliexpress – Global shipping:
Performance
The performance of the Bafang hub motor is just great. With almost 1000 watts of peak power, you can concur any hill and go really fast. The Bafang hub motor is a geared hub motor type. This means that there are gears inside that alter the ratio between the motor and the wheel. The geared system also includes a freehub system. This means that it can roll freely without extra motor resistance.
Geared hub motor system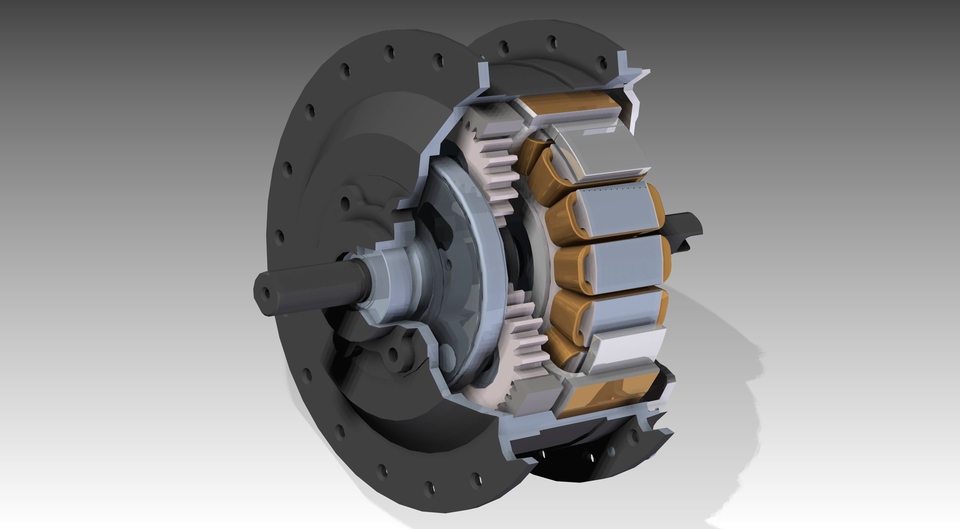 This geared hub motor system has two major advantages over the non-geared hub motors. The first advantage is its weight. The motor is just a lot smaller and lighter than its non-geared counterpart. This will make your bike feel more natural and nimble. You will also not have the problem of spokes getting loose due to the big weight as much. Non-geared hub motors do cope with this issue a lot. Another advantage is its superior torque. You will have more torque than a non-geared counterpart. This will make it more suitable for climbing hills and your acceleration will be better as well.
Top speed
The Bafang hub motor will easily bring you up to speeds of around 45 km/h (28mph). This is plenty fast enough for most riders. Cycling uphill will also feel like riding on a flat road due to its massive power. It might not have just as much power as its Bafang BBS02/BBSHD mid-drive brothers, but it surely doesn't disappoint.
Ride experience
I think this ebike conversion kit rides great, it has a lot of power, great acceleration and a nice pedal assist. If you need a lot of power, this kit definitely delivers. The main advantage over a mid-drive system is its worry-free riding property. With a hub motor system, you don't have to worry about snapping your chain, wearing out your cassette, skipping teeth, etc. Because of the high power that mid-drive motors can output as well, all these problems can occur if you really want to use a lot of power.
Hub motor advantages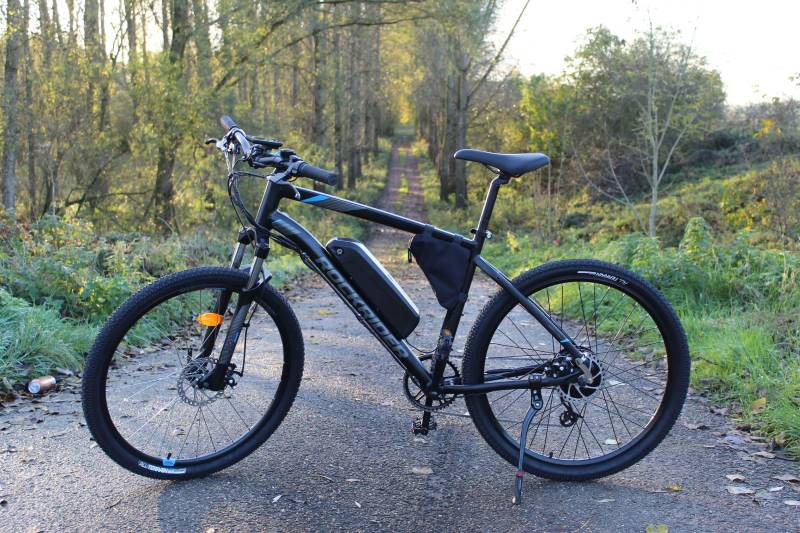 With a hub motor system, you don't have to worry about this because your drivetrain is independent of the motor. All the power will be exerted on the frame instead of on your drivetrain. This way you can use as much power as you want without worrying about something breaking. This makes it just that much more effortlessly to ride.
The throttle also allows you to ride the bike without pedaling at all. You can reach speeds up to 40 km/h (25 mph) without doing anything at all. This can be really fun from time to time. You ofcourse can also pedal along comfortably. If you set the pedal assist in a high setting, it will feel like you have superhuman legs, which is really fun.
Build quality
The build quality is just amazing as can be expected from Bafang. The motor is enclosed in a sturdy and nicely painted black metal enclosure. It feels like a quality component that won't easily break. The motor is also IP65 rated which makes it suitable for driving in the rain as long as you make sure to protect your controllers and connectors as well. Some kits come with waterproof controllers and connectors (all options listed below), others don't. If you don't have the waterproof connectors you can just place them in a waterproof bike bag (listed above), this will completely waterproof your bike.
All in all the motor is built like a tank and looks nice as well. It's nice and small and discrete. With the cassette/freewheel and disc brake installed, you don't even notice it that much.
Reliability and problems
The reliability is where the Bafang hub motor sets itself apart from other popular options like the Bafang mid-drive motors (BBS02/BBSHD). Firstly, you won't have the drivetrain-related issues that you can experience with mid-drive motors. Because of the nature of hub motors, they don't put power onto your drivetrain. This way your drivetrain is independent of the power of the motor. Therefore you don't cause accelerated wear on your chain and gears. This, in turn, causes your maintenance to be very little.
Controller reliability
The controllers that come with the motor are also really reliable, unlike the Bafang mid-drive motors. The Bafang mid-drive controllers are known to be rather unreliable. Replacing such a controller is hard as well. The different controllers that come with the Bafang hub motors are all just really reliable. Breaking such a controller is a really rare occurrence, but if they do, they can be replaced really easily due to their external nature.
So all in all this conversion kit is just about as reliable and maintenance-free as it gets. If reliability and low maintenance are really important for you; definitely go for this motor.
Because of its excellent reliability, there really aren't any mature problems with it. The only thing you might have to do every once in a while is tightening the spokes. But because the motor is really lightweight for its power, you won't have to do this quite as often. Apart from this, the motor is basically problem-free.
Buy this Bafang hub motor conversion kit @Aliexpress – Global shipping:
Conclusion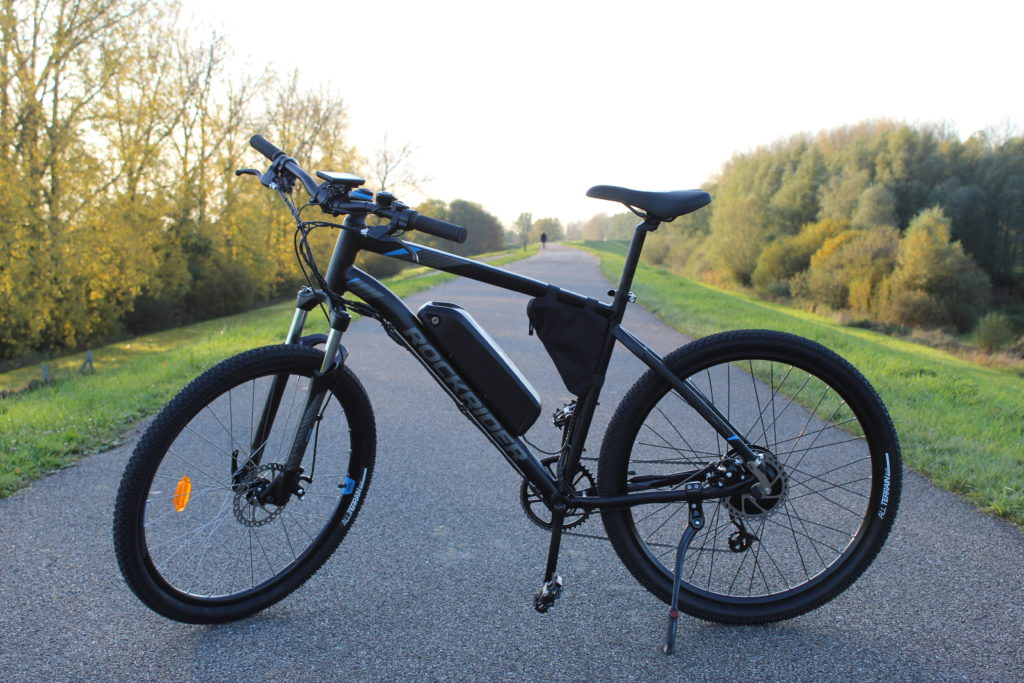 The Bafang hub motor is my personal go-to ebike conversion kit and therefore is on the number 1 spot of the best ebike conversion kit in the 2021 post. It's a hassle-free, great quality, low maintenance, powerful and nice riding ebike conversion kit. It just ticks all the boxes. Because of its superior reliability to the Bafang mid-drives, this kit will be the best option for most DIY ebike builders. Especially for the less experienced builders. It just is an amazing piece of kit and I can recommend it to anyone. You really can't go wrong with it!
| | |
| --- | --- |
| Power: | (4.0 / 5) |
| Torque: | (4.0 / 5) |
| Pedal assist: | (4.0 / 5) |
| Build quality: | (5.0 / 5) |
| Low maintenance: | (5.0 / 5) |
| Reliability: | (5.0 / 5) |
If you have any questions, want to start a discussion, or need some support, please use the comment section below. I will respond to you within 24 hours.