The Tongsheng TSDZ2 conversion kit separates itself from other kits with its torque-sensing ability. This feature for example can't be found in the popular Bafang BBS02 and BBSHD mid-drive kits. Does this feature make it worthwhile to buy the Tongsheng TSDZ2 motor kit? Or does it fall behind on other features like power and built quality? In this post, I will give answers to all these questions by providing an extensive review of the Tongsheng TSDZ2 conversion kit.
Update September 2021: Bafang has sued Tongsheng for patent infringement. Bafang has won this lawsuit, therefore the Tongsheng TSDZ2 officially can't be sold on big platforms like Aliexpress and Amazon anymore. Because of this, it can be hard to find sellers of the Tongsheng TSDZ2 on these platforms. Sellers on Aliexpress and Amazon now don't use the official name anymore to avoid getting their listings removed by the platforms. I have updated the links in this post to sellers that still actually sell the Tongsheng TSDZ2 on these big platforms. You can safely order from these sellers.
What's included in the kit?
If you buy a Tongsheng TSDZ2 conversion kit, you will have all the parts you need for a complete conversion, except the battery. You will have to buy a separate battery or you will have to go for a seller that includes a suitable battery as well. You can find some product links of such kits from my recommended sellers below. From the picture, it can be seen that some parts are optional. Whether or not those parts will be included is based on the display choice you make. This will be explained further in the "chainring, e-brakes and throttle options" section.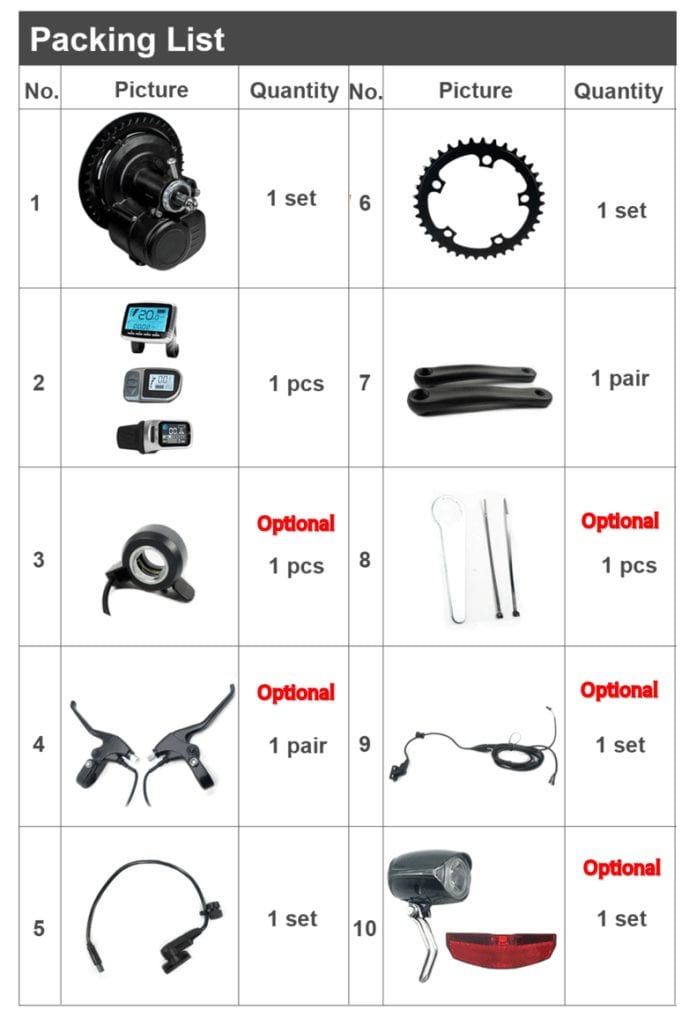 Parts that are included in all kits:
TSDZ2 motor unit
Display (VLDC5, VLDC6 or XH-18)
Chainring (42T default)
Crankarms
Speed sensor
Optional parts:
Thumb throttle
E-brakes (for cable brakes default)
"1 to 2 cable"
Lockring mounting tool
Wiring harness adapter for lighting
Bike lights
Different power levels
The Tongsheng TSDZ2 motor is available at different power levels. At a voltage of 36V, the options are: 250W, 350W, and 500W. At a voltage of 48V, the options are: 500W and 750W.
The controller inside every Tongsheng TSDZ2 is the same, the only difference is in the way that they are programmed. Each different version is programmed in a way that they draw the correct amount of amps at the right voltage to obtain the specified power output. So physically speaking all different power versions are identical.
The controller can even handle 52V batteries, I however do not recommend this because the controller isn't officially rated at this voltage. You will also decrease the reliability and the lifespan of the controller and motor by doing this. So stick to 36V or 48V batteries if possible.
So which power level should I choose? This depends on what sort of ebike you want to build. If you want a street-legal ebike, go for the maximum amount of power that is road legal in your country. This is 250W in the EU for example. If you however don't mind the regulations, go for the 48V 750W version. This is the most powerful and versatile option. With this version, you can use a lot of power if necessary by selecting a high pedal assist mode. If you don't need all the power, you can just select a lower pedal assist mode. You will have the best of both worlds in this case.
Which display to choose?
There are three different display options available for the Tongsheng TSDZ2 conversion kit. You can choose between the VLDC5, VLDC6, and XH-18 displays. Which display you need to choose depends on one question: Do you need e-brakes? If you want e-brakes, the VLCD5 display will be your only option since this is the only one that supports e-brakes. If you don't want to use e-brakes, you are free to choose any of the three.
Apart from the e-brake functionality, the displays all provide the same functionality. So your choice should depend on personal esthetic preference. I personally prefer the VLCD6 and XH-18 over the VLDC5 because of their size. The VLCD5 display is absolutely huge, it's a bit overkill in my opinion. The VLDC5 and XH-18 are really discrete and display the exact same information. But if you absolutely want the e-brakes then you will still have to go with the VLDC5.
Chainring, e-brakes and throttle options
Chainring:
The chainring size generally is the same on all Tongsheng TSDZ2 kits, namely 42T. This size will fit most bikes perfectly without clearance issues. There are however some sellers that provide different size chainrings for an extra payment, like 34T or 52T options. I would never suggest choosing a chainring smaller than 42T on an ebike since most of the time you will ride at high speeds. If you however want to go for a 52T, you will have to make sure this fits. Most bikes will have problems with 52T chainrings, because of frame clearance, derailleur tolerance, and chain length. So generally speaking the 42T default option is the best and safest option to choose. If you still have clearance issues with a 42T, these spacers can help.
E-brakes:
As said in the display section, e-brakes are only available if you choose the VLCD5 display. So if you need them, choose the VLCD5 display. I think that e-brakes are not as essential with the Tongsheng TSDZ2, since the pedal assist will almost immediately stop if you stop pedaling. But still, e-brakes will provide some added safety. If you choose not to install them, you will also have less wiring managing to do. So whether or not you will need them will depend on what you value more: convenience or a bit of added safety.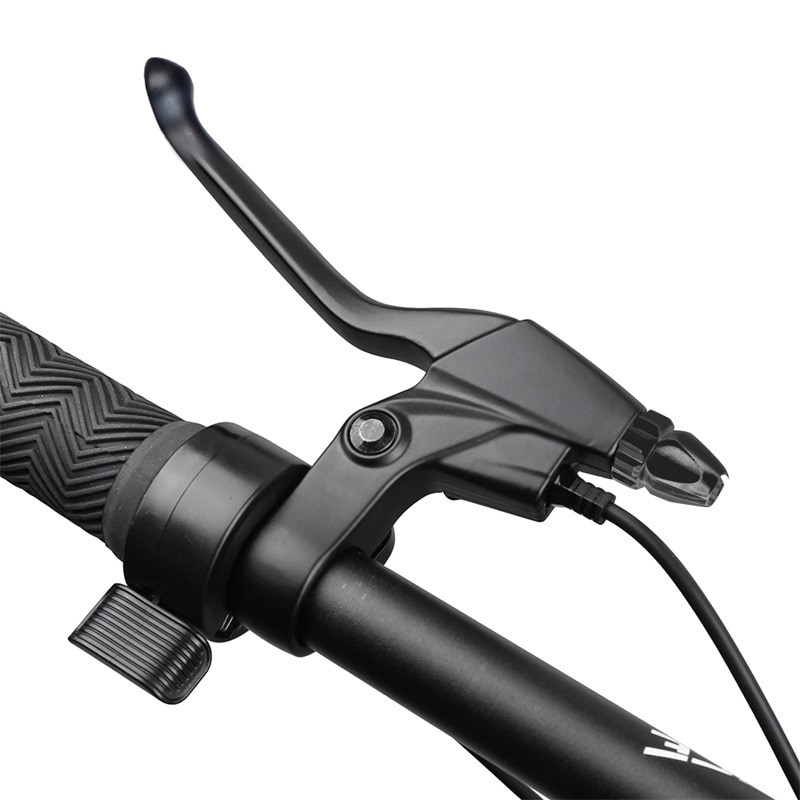 If you have hydraulic brakes you will have to ask the seller if they can provide hydraulic cut-off switches as well. Most sellers will provide these instead of the normal brake levers for free.
Throttle:
Not all kits will include a thumb throttle. If you need a thumb throttle with the VLCD6 or XH-18 display, make sure that the seller also includes a "1 to 2 cable". Because if you don't have this cable, the throttle can't be connected. If you want a throttle with the VLCD5, you don't need an extra cable.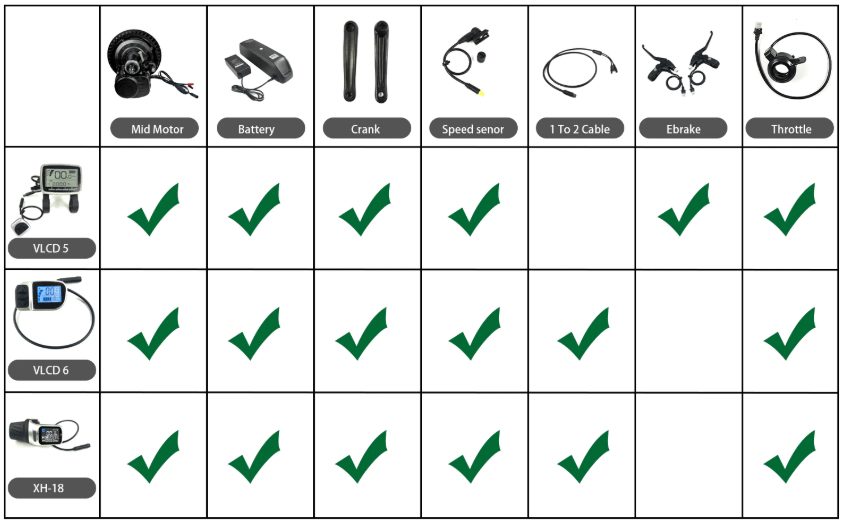 The throttle also isn't really necessary with the Tongsheng TSDZ2 conversion kit. The pedal assist of the TSDZ2 is excellent and having a throttle won't add a lot of convenience. If you however need to get started from a standstill, it can be convenient sometimes. But if you want to buy a kit from a seller that doesn't include the throttle, don't worry about it. You will not miss it at all.
Buy the Tongsheng TSDZ2 @Aliexpress – Global shipping:
Installation and compatibility
The Tongsheng TSDZ2 mid-drive kits can be installed on bikes with 33.5 mm diameter bottom brackets with a width between 68 and 73 mm. These are common dimensions on bikes, the kit will therefore fit most bikes perfectly. Your bike does have to have a removable bottom bracket, this means that the bottom bracket can be unscrewed. Some bikes (mostly expensive bikes) feature pressed bottom brackets, which can not (easily) be removed. If your bike has a bottom bracket of this type, this kit can't be installed on it. If you are not sure if your bottom bracket is removable, ask your local bike shop, they can tell you just by looking at it. The other requirements that your bike has to meet are pretty obvious like:
The bike should be chain driven (not belt driven)
Disc brakes are recommended so that you can stop quickly
The bike shouldn't have a chainguard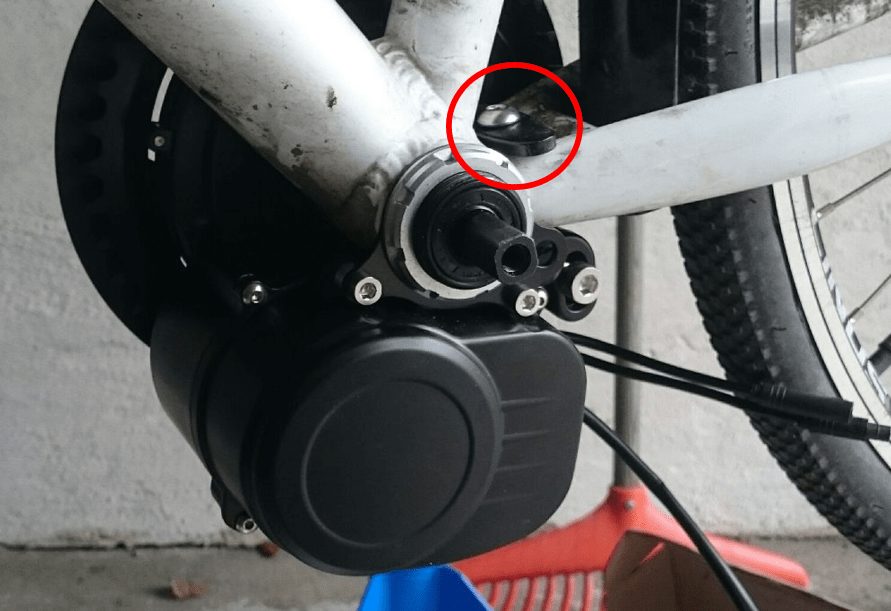 The Tongsheng mid-drive motor mounts in a similar way as the Bafang mid-drive motor, the Tongsheng mid-drive motor does include an extra mounting feature though. You can see this mounting feature in the image above. It's a little metal plate that gets clamped between the frame and the motor. This plate will prevent the motor from undoing itself because of its own torque. Tongsheng has done a great job adding this feature because it will prevent a lot of issues over time. On some bikes, you won't be able to use this feature though, because of possible clearance issues. The motor fortunately can still be mounted without using this extra clamping feature. It will then just mount in the same way as a Bafang system would.
There are lots of really detailed installation guides that precisely show the steps that you need to take. I can recommend this video, it covers everything from start to finish.
Performance
The Tongsheng TSDZ2 isn't as powerful as its Bafang counterpart. If we compare the power of the Tongsheng TSDZ2 750W motor and the Bafang BBS02 750 watt motor to each other, Bafang will definitely win. The Tongsheng mid-drive motors have a maximum torque of 80Nm, Bafang mid-drive motors have a maximum torque of 160Nm. The Bafang 750W version can really output around 1200W in practice while the Tongsheng 750W really outputs the rated 750W. So from these numbers, it can be easily seen that the Bafang mid-drives are just more powerful.
That however doesn't imply that they are not powerful at all. The Tongsheng TSDZ2 (750W) outputs more than enough power for most riders. If it's your first time on a Tongsheng TSDZ2 (750W) converted ebike, you will definitely have a fun ride. It really still packs a lot of power, but it simply isn't as crazy powerful as the Bafang options. So if power is all you want, you should really go for the Bafang mid-drives.
The fact that you can still use your normal gears with a mid-drive motor makes also this mid-drive motor system really versatile. If you need to climb a steep hill, you will select a low gear. If you have a nice flat piece of road, you can select a high gear. So if you select the right gears, you will be able to climb the steepest of hills effortlessly! With the 750W version, you will also be able to reach speeds of up to 40 km/h (25mph) in a breeze. If you however want to reach higher speeds, you will need to pedal a little harder. But for most riders, 40 km/h (25mph) will already be more than sufficient!
Torque-sensing feature
Now let's talk about Tongsheng's main selling feature: torque-sensing pedal assist. I will start by explaining what torque-sensing does for your ebike and how it works.
An ebike with a torque sensor measures the amount of pressure that the rider exerts on the pedals. Generally, an ebike will only measure at which speed you rotate the pedals, this is called a cadence-based PAS system. Cadence systems are the most common on ebikes since its the cheapest PAS system. More expensive systems like Bosch systems, do have torque-sensing PAS systems. So the Tongsheng TSDZ2 system really is special in the way that it's a relatively cheap conversion kit with a rather expensive technology built into it.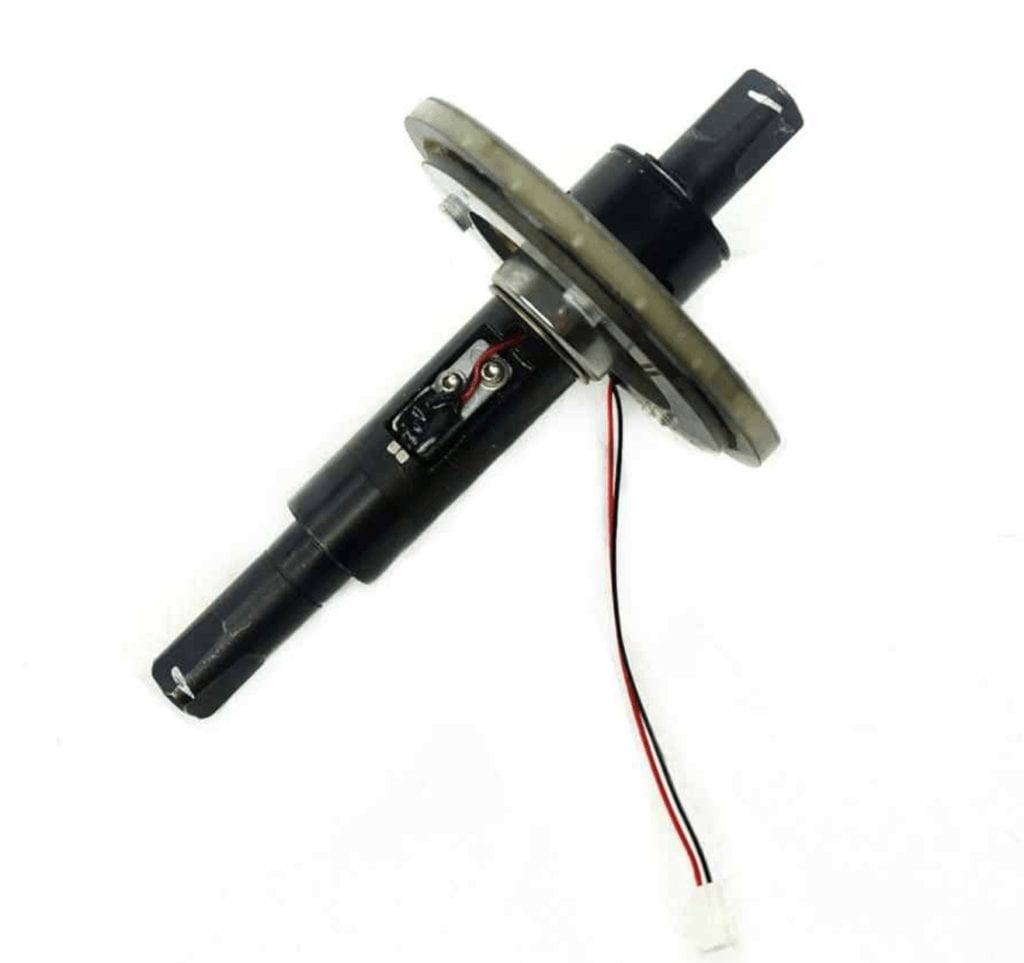 So how will a torque-sensing system assist you? A torque-sensing system will assist with a certain amount of power that is proportional to the amount of force you exert on the pedals. If you pedal harder, you will get assisted more. If you pedal lighter, you will get assisted less. Because of this, you could say that the system will "amplify" your leg power with electric power. This amplification will result in a really natural-feeling ride experience. It will feel like you have really strong legs and you also won't really notice that you are riding an electric bike.
Ride experience
So this torque-sensing PAS feature of the Tongsheng TSDZ2 really is amazing! If you want the best possible pedal assist experience, you need to go for this system. The torque-sensing system isn't for everyone, however. If you are a really "lazy" rider and you want to reach high speeds with almost no effort, this system will not work for you. This is the case because of the fact that you have to pedal harder if you want to go faster. With a cadence-based system, you don't have this "problem", you just rotate the pedals and you will get assisted with the same amount of power, independent of how hard you pedal. So if you don't want to put in any effort, you are better off with a Bafang BBS02 motor.
The Tongsheng TSDZ2 also operates really quietly and smoothly, you won't really notice that it's there while riding. So together with the great torque-sensing feature, it is just a buttery smooth system to use.
Build quality
The built quality of the Tongsheng TSDZ2 system can be called excellent. The motor and controller are housed in a nice metal housing that feels sturdy. All the connectors used on the motor are of the waterproof type, which is excellent as well. The chainring and chainring cover are also constructed really nicely. I would say that that part feels even more high quality than its Bafang counterpart.
The Tongsheng TSDZ2 motor is IP54 rated, which makes it protected from splashes of water. I still would avoid the rain as much as possible, but if you are stuck in a rain shower, your bike should be fine.
The part I dislike the most about the kit is the displays. Tongsheng offers multiple displays, but all the displays they offer lack in looks, built-quality, and functionality. The displays look old-fashioned, are made of cheap plastic, and don't show important information like power usage.
Reliability and problems
The Tongsheng TSDZ2 scores excellent on reliability. The motor doesn't seem to have any major issues. The built-in controllers can fail, but it's a rare occurrence. The Bafang mid-drive systems suffer from controller failures a lot, but Tongsheng definitely doesn't seem to have this same problem, which is great.
There are also reports of failing torque sensors, but this doesn't seem to happen that often, so that shouldn't be a problem as well. I personally also have never had any issues with the system. So in general the reliability is just excellent and way better than the Bafang mid-drive motor's reliability.
Mid-drive motor conversions often suffer from fast wear and tear on the drivetrain (chainring, chain, and cassette) because of the way mid-drives operate. Tongsheng TSDZ2 conversions don't seem to suffer from this issue as much as with other mid-drives. This has to do with the way the power is delivered on Tongsheng systems. The Tongsheng systems are really smooth and don't apply the power all at once, which helps save your drivetrain.
Buy this Tongsheng TSDZ2 conversion kit @Aliexpress – Global shipping:
Conclusion
If you are looking for an amazing pedal assist experience that gives you super-human legs, look no further! The Tongsheng TSDZ2 mid-drive motor delivers a truly amazing pedal assist with its torque-sensing technology. It, however, isn't as powerful as its Bafang counterpart, but it still packs enough power for most riders. The reliability and build quality of the system is also excellent, with only the displays being a bit old-fashioned. So it simply is an amazing system that doesn't break the bank and will ensure an amazing conversion.
| | |
| --- | --- |
| Power: | (3.5 / 5) |
| Torque: | (4.0 / 5) |
| Pedal assist: | (5.0 / 5) |
| Build quality: | (4.0 / 5) |
| Low maintenance: | (4.0 / 5) |
| Reliability: | (4.5 / 5) |
If you have any questions, want to start a discussion, or need some support, please use the comment section below. I will respond to you within 24 hours.