Decathlon has expanded its electric mountain bike offering even further with the new E-ST 100. The Rockrider E-ST 100 electric mountain bike is the cheapest electric mountain bike in their collection. It comes in at only 1000 euros (800 pounds), which is absolutely astonishingly low price. You might wonder if an ebike this price will be any good. In this review, I will give an extensive review of all its specifications and you will find out of this e-bike is the one for you!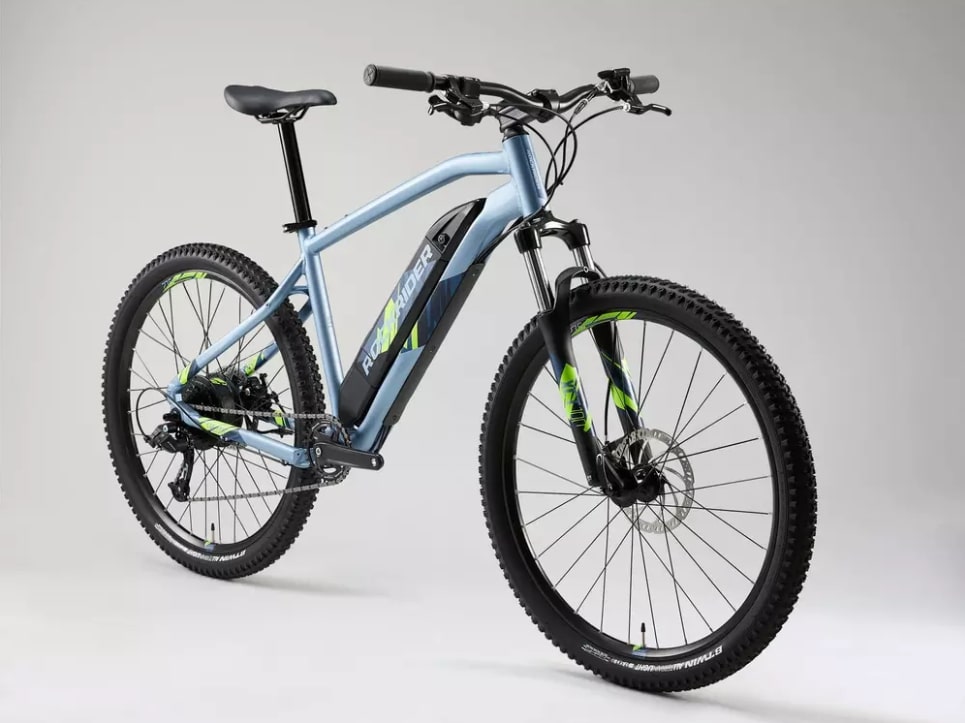 Electric Motor
The motor used on the E-ST 100 is of the geared hub motor type. This motor is also used on the slightly more expensive E-ST 500 V2.
The geared hub motor is located in the rear wheel and has as the name suggests, gears inside. Having a geared hub motor results in better torque compared to non-geared hub motors. Electric mountain bikes often use mid-drive motors, just like the E-ST 520 and E-ST 900. The reason for this is the higher torque of mid-drive motors compared to hub motors. Mid-drive motors also provide a better weight balance.
Decathlon probably didn't go for a mid-drive motor on the E-ST 100 because they are a lot more expensive than hub motors. By going with a geared hub motor they could get the price down a lot. Having a mid-drive motor at this price point is simply not possible. So if you specifically want a mid-drive motor, you should look at the E-ST 520 and E-ST 900 instead. These electric mountain bikes will be quite a bit more expensive though.
Torque and power
The geared hub motor delivers 42NM of torque at 250W. This might not be as much as the 70NM torque of the mid-drive motors of the E-ST 520/900, but it still is quite a good torque rating. The listed power is 250W since this is the legal nominal power rating in the EU. Most ebike motors provide a little more peak power than listed though. The actual peak power will be closer to 300-400 watts in the highest assist mode.
Cadence pedal assist
The pedal assist is of the cadence type. This means that the ebike will measure the speed at which the pedals are rotating. Depending on the rotation speed, the ebike will give a certain amount of assistance. Cadence systems are generally less refined than higher-end torque-sensing systems. Torque-sensing systems will actually measure the force you exert on the pedals instead of the rotation speed of the pedals. Therefore torque-sensing pedal assist will give a more natural feeling pedal assist. Torque-sensing can be found on the more expensive E-ST 500, E-ST 520, and E-ST 900 electric mountain bikes of Decathlon.
It isn't a surprise that the E-ST 100 doesn't feature the more refined torque-sensing pedal assist. This simply is a more expensive technology. Finding it on a 1000 euros (800 pounds) ebike would be really surprising.
Other specifications
The rear geared hub motor is completely water sealed and basically maintenance-free. It's a closed unit with durable parts inside so that it will last a long time. The wheel can be taken out completely if a flat tire needs to be replaced for example.
Drivetrain
The drivetrain of a hub motor type ebike is generally less important than for a mid-drive type ebike. This is the case because unlike with a mid-drive motor there isn't any motor power exerted on the chain, gears, etc. The only power that your hub motor ebike's drivetrain should handle is your own leg power. Which ofcourse is a lot less power than leg and motor power combined as is the case on a mid-drive ebike.
This however doesn't mean that it isn't important at all. The E-ST 100 uses drivetrain gear of Microshift. The shifters are the Microshift M25 and TS39, the cassette is the Microshift H081 and the front chainring is a generic 32 teeth chainring.
All these components aren't quite of the highest quality. It is really entry-level gear, that can also be found on Decathlons affordable non-electric mountain bikes. So it uses basically the same drivetrain components as a 300 euro mountain bike of Decathlon. I would say that the gear is capable enough for this electric mountain bike. You shouldn't expect the highest performance, but it does the trick just fine. If you consider that the ebike only costs 1000 euros, the drivetrain is actually quite good.
Display and range
The E-ST 500 features, like almost all Decathlon's ebikes, a small display with integrated control buttons. The display is located at the lift side of the handlebars and can be easily controlled using your thumb. The same display is also used on the E-ST 520, which is a lot more expensive. So it's excellent to see such a nice display even at this low of a price.
The display shows all the relevant information like speed, assist level, battery percentage, remaining range, trip distance, and more. With the buttons, you can set the bike into 3 different assist levels. The range of your ebike will ofcourse be dependent on the mode you select.
Range and assist levels
| | | |
| --- | --- | --- |
| Assist level | Power | Range (Estimate) |
| Assist level 0 | 0 Watts | – |
| Assist level 1 | 20-100 Watts | 85 kilometers, 50 miles |
| Assist level 2 | 80-175 Watts | 50 kilometers, 30 miles |
| Assist level 3 | 150-250 Watts | 25 kilometers, 15 miles |
These 3 assist levels give you great control over the amount of power you can use. In mode 1, you can expect a range of about 85 kilometers (50 miles). In mode 3, you can expect a range of about 25 kilometers (15 miles). The range could be a bit higher, but considering its battery size these numbers can be expected. For the price though, the range is pretty impressive.
Battery
The battery of the E-ST 100 is made out of the same high-quality Samsung SDI 18650 lithium-ion cells that are also found in the more expensive E-ST500, E-ST 520, and E-ST 900 ebikes. I think it's great that Decathlon also used these high-end cells in their lower-end ebikes. Most of the time you will find Chinese brand name cells in ebikes at this price point. So having these Samsung brand name cells in the E-ST 500 is quite amazing.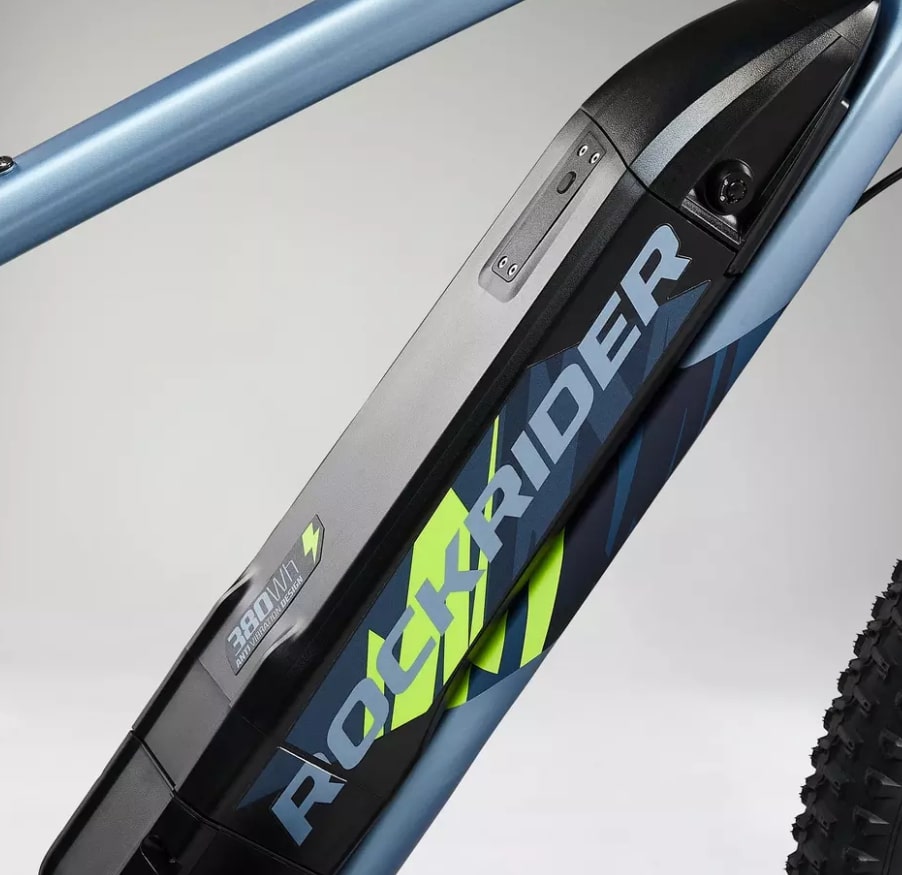 The E-ST 100 has a bit less battery capacity than the slightly more expensive E-ST 500. With the E-ST 100, the battery capacity comes in at 380Wh (36V, 10.5AH) which is excellent for an ebike at this price. The E-ST 500 V2 has a 9% bigger battery, so the difference isn't all that big.
The battery also is removable which makes it convenient if you want to charge the battery inside. The charger that is included is a 36V, 2A charger. With this charger, charging from 0 to 80% will take about 5 hours. Decathlon also sells a separate 36V, 4A charger which is compatible with the E-ST 100 as well. If you would buy this charger, you could cut your charging time in half. It will set you back an extra 60 euro though.
Frame
The frame is made out of the same strong 6061 hydroformed aluminum tubes used on the E-ST 500/520/900. The frame is covered by Decathlon's lifetime warranty for mountain bike frames. So you probably don't have to worry about it falling apart. The welds on the frame are neat and the paint quality is nice as well.
The frame of the E-ST 100 looks exactly the same as E-ST 500, E-ST 520, and E-ST 900 (apart from the mid-drive motor mount). Decathlon seems to use exactly the same frame on all their electric e-bikes. This also makes sense from a manufacturing standpoint. The fact that they all use the same frame isn't a bad thing, it simply is a nice frame, so that also applies to the E-ST 100.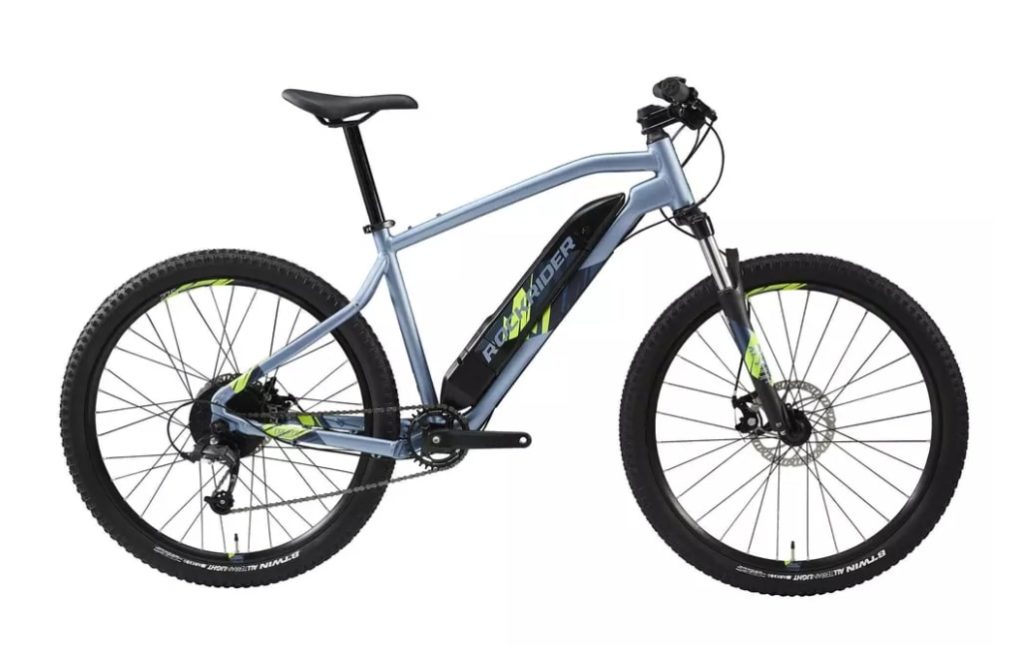 The battery is integrated into the frame and can be slid in easily. Once the battery is in, the battery can be locked down. Preventing someone from stealing your battery.
Brakes
The E-ST 100 has mechanical Tekro TKD68 disc brakes with 180 mm rotor discs. These brakes are really basic entry-level Tektro brakes. They again can be found on a 300 euro non-electric mountain bike that Decathlon sells as well, to give some perspective. The brakes will be fine for basic mountain-biking/trail riding. But I really don't recommend doing any serious downhill mountain biking for example. They will simply not provide the stopping power you will need. But in most cases, these brakes will be absolutely sufficient. If this will be your first bike with some sort of disc brakes, you probably will be surprised by its stopping power.
Suspension
Decathlon went with a Suntour XCR 30 front suspension with 100mm travel. The Suntour XCR 30 is a mechanical spring-based suspension, which will not nearly feel as nice as a hydraulic type suspension. But again for this low of a price, this mechanical spring-based suspension can be expected and provides good enough performance.
The suspension will hold up great to mild off-roading but if you want to do any serious off-roading, you really shouldn't go with this ebike. The E-ST 520 and E-ST 900 will be way more suitable for this.
Wheels/tires
The E-ST 520 comes with 27.5 inches by 2.2 inch wide tires. This is a good size tire for this mountain bike, it will provide enough off-road grip while not having too much rolling resistance.
The tires are installed on 23mm wide wheels. These wheels don't feature a thru-axle style mounting. But this again isn't expected at this price point. The front wheel can still be removed without any tools. The rear wheel needs to be removed with an 8mm Allen wrench if needed. The fact that the front wheel can be taken out easily is especially convenient for transportation.
Who should buy the E-ST 100?
The E-ST 100 is a perfect ebike if you want to ride some off-road paths without too many major off-road obstacles. It should really be used for consumers that just want to ride around casually on mild off-road terrain. If you are planning to really use it for the mountain biking sport, I should look at Decathlon's other electric mountain bikes. Especially the E-ST 520 and E-ST 900 will be much more serious ebikes that can be used for some serious mountain biking/off-roading.
If you are looking for a really cheap ebike and you don't even want to use it for off-roading, this ebike can be really interesting as well. If you install mud-guards, a luggage carrier, and maybe even some nice road tires, this bike will be a nice commuter ebike as well.
Buy Rockrider E-ST 100 Electric Mountain Bike @Decahtlon
Conclusion
The E-ST 100 is an interesting ebike that offers a lot of value for just a 1000 euros. At this price point, there won't really be better alternatives. Decathlon is just a champion in providing great products at ridiculously low prices.
Decathlon does have some interesting in-house competition though. The E-ST 500 V2 is a very similar ebike to the E-ST 100, which I can highly recommend as well. It only costs 250 euros more than the E-ST 100. For this extra 250 euros, you will get: torque-sensing pedal assist, a higher capacity battery, and overall better quality components. Therefore I would say, if you can spend the extra 250 euros, go with the E-ST 500 V2. You will get even more value for your money. Especially the torque-sensing feature will really set it apart from the E-ST 100 in terms of riding experience.
If you are looking for an ebike that has great off-roading capabilities though, the E-ST 100 nor the E-ST 500 shouldn't be the one for you. The E-ST 100 and E-ST 500 really are designed for mild off-roading, not for anything serious. So if you want to get into the mountain biking sport and want to ride some serious trials, you should spend a bit more on an electric mountain bike. Decathlon offers the amazing E-ST 520 or E-ST 900 for this exact purpose.
So if you want an electric mountain bike that offers amazing value and you don't want to spend any more than a 1000 euros, this ebike will be perfect for you! If you, however, can afford to spend a little bit more, go for the E-ST 500 V2, it will be a nicer ebike that offers just a little bit more value for money!
If you have any questions, want to start a discussion, or need some support, please use the comment section below. I will respond to you within 24 hours.