Decathlon keeps on adding new electric (mountain) bikes to their collection. The new Rockrider E-ST 900 electric mountain bike is one of these ebikes. The E-ST 900 might be the most impressive ebike in their lineup yet. Not only has it the highest specs, but it also comes at an affordable price that you can expect from Decathlon. If you are looking for an ebike with high-quality components but don't want to spend the premium of other brands, this is the one for you! In this review, I will tell you all the things to like about this stunning Decathlon E ST-900 electric mountain bike!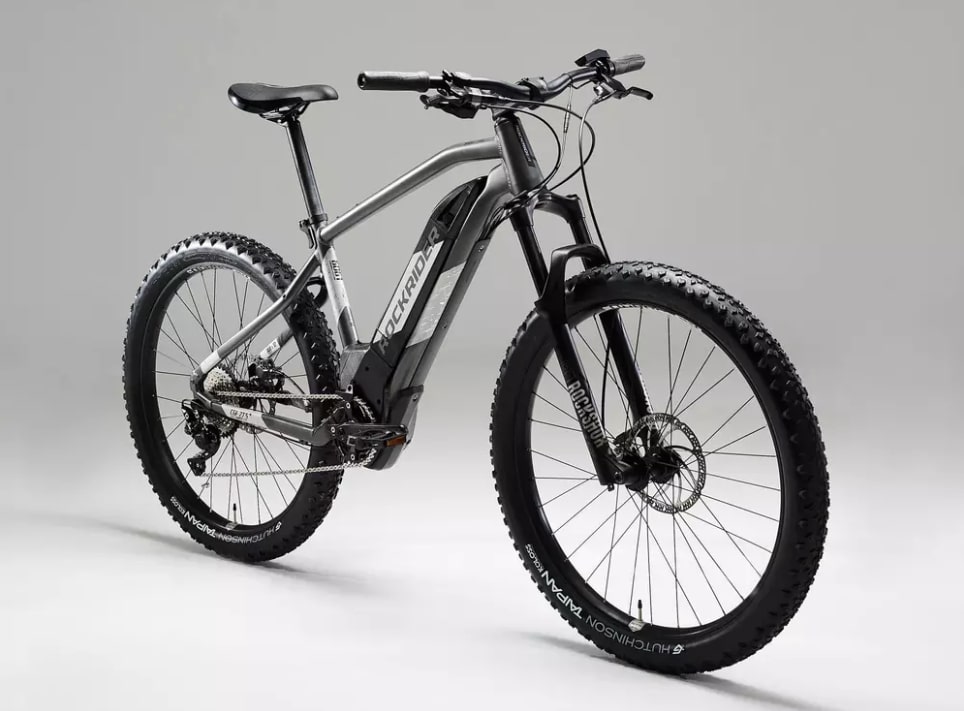 Electric Motor
Let's start with the most impressive part of this E-ST 900 ebike: the electric motor. The electric motor used by Decathlon is manufactured by Brose. Brose is a large automotive part manufacturer that also produces top-quality electric motors for ebikes. The Brose electric motors are a textbook example of great German engineering. The motors therefore also compete with the best in class ebike motors from Bosch and Shimano.
Output power
The motor used is the Brose "Drive T" model. It's a mid-drive motor with an internal belt drive for extra smooth and quiet transmission. The motor has a built-in torque-sensing pedal assist, 70NM of torque, and 250W op power. The actual peak power will be higher in boost mode (300-400W), but the legal listed power is 250W. All these features make this motor truly outstanding, especially when you consider that the bike only costs around 2000 euros (1700 pounds)!

Torque
The torque of 70NM is the most important specification of this motor. The torque of an ebike is the force at which the motor can rotate its axle. High torque is desirable since it will enable you to climb any hill effortlessly. This Brose motor has a torque of 70NM which is truly amazing for a 250W motor. Most ebikes, especially hub motor ebikes, will only produce around 40NM of torque. So 70NM is almost double this!
Torque-sening pedal assist
The pedal assist is of the torque-sensing kind. This means that the ST-900 ebike will measure the force you exert on the pedals. It will assist you with a certain amount of power dependent on the force you exert on the pedals and dependent on which assist mode you are in. This will result in the most natural-feeling electric assistance, the electric motor will become part of your body. Torque-sensing pedal assist is often found on high-end ebikes, so having it at this price point is amazing as well.
Drivetrain
Decathlon also didn't cut costs on the drivetrain. Decathlon went for a high-quality Shimano Deore M6000 1 x 10 groupset. This includes an M6000 trigger shifter and an excellent Deore Shadow+ rear derailleur.
Having a good drivetrain is especially important for mid-drive ebikes since there will be a lot of added force on it by the electric motor. If you have a weak drivetrain in addition to a powerful mid-drive motor, you can possibly break chains and wear out cassette gears really quickly. Luckily this isn't the case here because of the excellent Shimano gear.
Decathlon even went the extra mile by installing an excellent KMC E10 turbo chain. This chain is specially designed to handle the high force that electric mid-drive motors can output. This great drivetrain shows that Decathlon really put in the effort to make this E-ST 900 electric mountain bike as reliable as possible, which is great.
Display and range
The E-ST 900 has a small but convenient-to-use display. I like that they didn't go with a big middle-mounted display with separate buttons. Combining the buttons and display into one unit makes it really sturdy and discrete.
The display shows all the relevant information like: speed, assist level, battery percentage, remaining range, trip distance, and more. With the buttons you can set the bike into 4 different assist levels:
Range and assist levels
| | | | |
| --- | --- | --- | --- |
| Assist level | Name | Power | Range (Estimate) |
| Assist level 0 | Off | +0% | – |
| Assist level 1 | Economy | +40% | 130 kilometers, 80 miles |
| Assist level 2 | Economy + | +80% | 105 kilometers, 65 miles |
| Assist level 3 | Standard | +160% | 70 kilometers, 45 miles |
| Assist level 4 | Boost | +320% | 30 kilometers, 20 miles |
These 4 assist levels give you great control over the amount of power you want to use. In the economy mode, you can expect a range of about 130 kilometers (80 miles). In the Boost mode, you can expect a range of about 30 kilometers (20 miles). This range can be considered excellent, especially when you consider that the motor outputs a lot of power in boost mode.
Battery
The battery of the E-ST 900 is made out of high-quality Samsung SDI 18650 lithium-ion cells. Having brand-name cells inside an ebike battery is always important for reliability, performance, and safety. Decathlon went with Samsung 18650 cells, which is a great choice.
The battery has a great capacity of 504Wh (36V, 14AH), this is a more than excellent size battery for an ebike at this price point. Some electric mountain bikes have smaller batteries to lower the overall weight. I think Decathlon made an excellent decision not to make this design choice. The advantage of having more range is much more useful for most people. Especially if you consider that most people will not go hardcore mountain biking, but just ride casually. In that case, the big battery will really come in handy.
The battery is also is removable which makes it convenient if you want to charge the battery inside. The charger that is included is a 36V, 4A fast charger. Charging at 4A is about as fast as the theoretical maximum charging rate. So it's nice that Decathlon included the fastest charger possible. Charging from 0 to 80% will take about 3 hours with this charger.
Frame
The frame is made out of strong 6061 hydroformed aluminum tubes. The frame is covered by Decathlon's lifetime warranty for mountain bike frames. So you probably don't have to worry about it falling apart. The welds on the frame are neat and the paint quality is nice as well.
The battery is integrated into the frame and can be slid in easily. Once the battery is in, the battery can be locked down. Preventing someone from stealing your battery.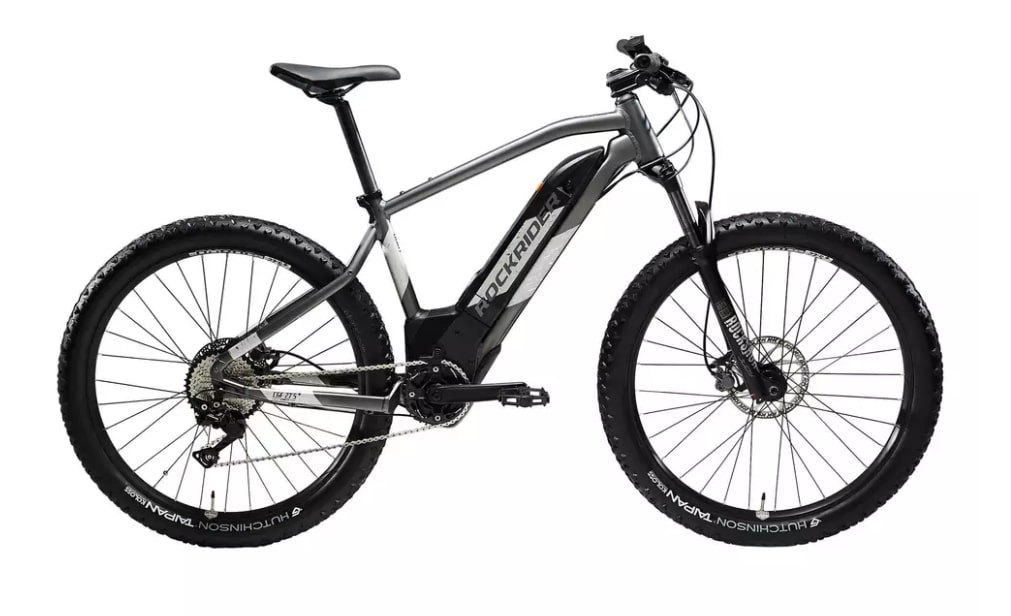 The frame comes in two colors: grey with silver accents and grey width orange accents. I personally really like the look of the grey with silver accents frame. it gives the E-ST 900 a stealth and premium look.
Brakes
The E-ST 900 has Tektro TKD32 hydraulic brakes installed in combination with 180mm discs. This combination gives the ebike plenty of stopping power. I, however, don't recommend you to use this ebike for extreme downhill mountain biking. For this purpose, the brakes just aren't quite sufficient. Therefore I would say the only part of the E-ST 900 that could be improved is the brakes. But for most riders, these brakes will still be absolutely fine.
Suspension
The E-ST 900 uses a RockShox Judy front fork. This is a hydraulic/pneumatic suspension with 120mm of travel, adjustability, and a lockout feature. This front fork isn't the best that RockShox has to offer, but it definitely suffices. Comparable ebikes at this price point often have a lot more basic front forks. So for its price, this RockShox Judy is excellent.
The suspension allows for comfortable light trail riding or serious off-roading. Both can be done without a problem.
Wheels/tires
The first thing you probably notice about the E-ST 900 is its massive tires. The E-ST 900 comes with 27.5 inches by 2.8 inch wide tires. These are absolutely massive tires that offer a lot of off-road grip. They also offer a good level of protection against punctures due to their massive size.
The tires are installed on 36mm wide Sunringle DUOC 40 27.5″ wheels. These wheels are off the thru-axle style that provides great stability and a precision fit. They are also easy to remove if you need to do any maintenance.
E-ST 900 only for mountain bikers?
So, is the E-ST 900 only suitable for mountain bikers? I would say definitely not. The E-ST 900 is a great ebike for daily commuting as well. You will have an ebike with high-quality components, a powerful motor, great range, and a nice pedal assist. This makes it perfect for daily commutes as well. You will also get the added benefits of a mountain bike, like great front suspension and massive tires for amazing grip. You could also add a luggage carrier and mudguards to make it truly suitable for daily driving. Therefore I would say this E-ST 900 is suitable for casual riders, commuters, and semi-professional mountain bikers.
So whether you are looking for a great off-roading machine or a nicely riding daily commuter, the E-ST 900 will not disappoint. If you are a really professional mountain biker you mind come across its limits. But for most casual/semi-professional mountain bikers this ebike will definitely deliver.
Buy Rockrider E-ST 900 Electric Mountain Bike @Decathlon
Conclusion
Decathlon has built an absolutely amazing e-bike for only 2000 euros. The E-ST 900 features the highest quality components at a stunning price point. There just aren't any other brands that can compete with this ebike at the moment.
The German-engineered Brose T motor in addition to the big Samsung battery makes this ebike ride truly amazing. The other components of this ebike are also absolutely outstanding at this price point. The E-ST 900 just ticks all the boxes and I can't think of something really bad about it.
If you want a high-quality electric mountain bike to use for serious off-roading, casual trail riding, or for daily commuting, this ebike is perfect for you. For 2000 euros there will simply not be a better option. I really can't recommend this ebike enough!
In case you liked this bike, you might also like the E-ST 520. It's the cheaper alternative to the E-ST 900 of Decathlon. It shares a lot of the same amazing components but at a lower price point. Definitely check out the review to find out if this ebike might suit your needs even better.
If you have any questions, want to start a discussion, or need some support, please use the comment section below. I will respond to you within 24 hours.