A Quick Introduction to the Safest and Best Hoverboards for 2022
In a very short time, the world was enthralled by Hoverboards after they were introduced circa 2013. They have no doubt been some of the most trendy gadgets ever created. It would not be wrong to say that hover boards very quickly became, and continue to be, one of the most used devices ever. In fact, it was estimated that by 2021, every 5th person in the world would own a hoverboard. For people that are unaware of this trendsetting technology, we present you with the best generally available hoverboards in the world in this article.
Hoverboard Safety
Before we jump into the products, let's address safety. Unfortunately, battery reliability emerged as a setback to the hoverboard market and several product recalls have been implemented related primarily to battery & charging inefficiencies which have resulted in fires, with some being quite serious, or even deadly. The Consumer Product Safety Commission has issued safety alerts as needed, and this resulted in recalls and many angry customers. However, as with most new technologies, hoverboard suppliers have aggressively dealt with the problems, and have responded with effective and safe solutions.
The affected boards have been re-designed with improved technology.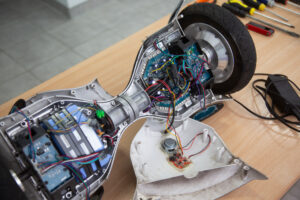 Hoverboard Technology Improvements
Improved Batteries
Improved Charging Systems
Streamlined Power Consumption and Efficiency
All this Equals – IMPROVED SAFETY!
The key thing to note is that if you bought your hoverboard before January 29, 2016 then your hoverboard is not UL 2272 compliant. Hoverboards purchased after that date, almost always are compliant.
If you have a hoverboard already, be sure to contact your manufacturer to understand the type of hoverboard you have, and take necessary precautions. Click here here for key CPSC recommendations.
After the charging problems, people were somewhat hesitant to buy hoverboards. Customers were being cautious and people avoided buying even from a genuinely reputable firms. Let us assure you that contemporary hoverboards have been updated with new technology. They have been converted into safer and more secure products and are now certified per UL2722. You can now choose one of the very best hoverboards with confidence. In this guide, we'll help you choose a safe and secure hoverboard.
Selecting a New Hoverboard
Finding a good hoverboard can be challenging with all the manufacturers and models available. To help with this we have created this list of ten top hoverboard choices. We have researched the market , and after considering each product and scanning it we have created a list of key features and other details with the good and the bad. These hoverboards have been chosen due to their enhanced functions, reliability, and overall better technology.
Scan this list for to pick your best hoverboard this year.
Are you considering purchasing a hoverboard to learn to use one for entertainment, or even travel around your neighborhood, or the city? As you gain riding talent, you are sure to impress your friends, family, employees, and who knows who else! Hoverboards are one of the best gadgets available on the market for fun and transportation. These "transporters" are designed for a good time, and they can make your life easier, once you know how to ride one. If you are on the fence about which hoverboard to choose, we'll help you with this guide. As with any eDrive vehicle, the more advanced hoverboards are quite powerful, and have an element of performance that will take your breath away.
1. Gyroor G-F1– Best Hoverboard 2022
Gyroor Hoverboard is resembled with the novelty items due to its exciting and futuristic features. More to this, most of the hoverboarders and adventurous are hunting for the fastest hoverboard because of the fact that they need blistering speed and nothing else. For all those adventurous searching out for the ultra-blistering speed hoverboard and a full-fledged power back hoverboard, Gyroor f1 racing hoverboard is the best choice.
Due to its novelty features and supreme quality performance, gyroor f1 racing hoverboard is listed first in our list of top ten hoverboards 2021. This best hoverboard with its sturdy board and powerful features have caught the sight of every adventurous. More to this, its silver shiny body with built-in LED lights sparks from far away and pull the kids and adults towards itself.
Distinguishing Features:
One of the most powerful hoverboards in the world. This board is made up of 85% aluminum and some ABS materials.
It is one of the safest hoverboards and possesses multiple safety certifications from UL, CE, FCC, and RoHS.
This model offers a robust and sturdy ride due to the 8.5 inch tires and plenty of power with the dual 350 Watt motors.
For all those who love hearing the racing sound of the automobiles, this Gyroor f1 racing hoverboard is features an audible racing car sound along with its solid ride.
The striking silver color really sets off this hoverboard and makes it truly unique and attractive.
The light weight of design is portable so you can carry it anywhere to have to go for a ride.
Pros & Cons
PROS
Gyroor hoverboard has a racing sound
Comes with some amazing novelty features
You can easily remove and replace the battery
Received safety certification from UL 2272
Comes with an App control feature and a self-balancing switch
CONS
Not suitable for bumpy terrains
No details about the warranty are provided
Specifications:
| | |
| --- | --- |
| Bike Type | Electric |
| Age Range (Description) | Adult |
| Wheel Size | 8.5″ |
| Uses | Road |
| Suspension Type | Front, Rear |
| # Speeds | 15 |
| Special Features | Portable |
| | |
2. MegaWheel Golden – Smartest Hoverboard 2021
Megawheel is a renowned company known well for manufacturing hoverboards. Their brand of hoverboards have a reputation for being reliable, durable and safe to ride for their customers. The MegaWheel Golden is one of the best-manufactured hoverboards from Megawheel Company, This high-quality self-balancing scooter is suitable for people of all ages and is affordable for all the pocket books. It is packed with exciting features, and is water-resistant. You can even enjoy its ride and do your stunts during the rainy day. So, why not have fun then!!
In our opinion, this is one of only the smartest hoverboards in the world.
Important Features
This is a UL certified hoverboard with an attractive look. Ride it without worry.
The MegaWheel company offers several different and exciting colors which makes it easy for kids to pick their favorite color and go crazy over this beast.
Entertainment is provided by the built-in Bluetooth sound system, on which you can enjoy your favorite music during riding.
The 6.5 inch solid rubber tires and the non-slip foot pedal provide secure grip and control over the hoverboard.
Along with the smart features, it is the one of the fastest standard hoverboards and can cover a distance of 10 km at a speed of 7.5 mph.
This model is suitable for people of all ages, and can support weight up to a maximum of 242 pounds.
An eye-catching and fascinating feature is the LED lighting system. While not recommended, it is possible to use the illumination to ride at night time.
Pros & Cons
Pros
It is safe to ride both on, and off roads
Suitable for both kids and adults
UL certified which prevents electrical hazards
Was the best rated hoverboard in 2019
Warranty
Cons
Charging time is too long
Warranty is too short
3. Levit8ion – Fastest Hoverboard
Coming towards another exciting best hoverboard of 2019 is levit8ion hoverboard. It is not only the smartest hoverboard but also provide high-quality premium hoverboard features at the best price. The feature that has given its success to the next level is its blistering speed. If you are also surfing for the high grade fastest hoverboard to enjoy a thrilling ride, then this hoverboard is your perfect choice.
Specifications
Have a glance at the amazing features of this best hoverboard due to which it has hit the list of 10 best hoverboards 2022:
The two-wheel self-balancing scooter is UL certified as well as water-resistant. It is safe from fire catching, electric shocks, and water stains. So, you can ride over this hoverboard even in rain as well without any worry.
If you want a budget-friendly hoverboard with super-duper features then this hoverboard is best for you to buy.
The hoverboard can cover a distance of 15-20 km at a top speed of 8.7mph. This is a top speed among all hoverboards available in the market. So enjoy this top speed with this lovely hoverboard.
This hoverboard is an all-terrain hoverboard. It perfectly covers the journey on off roads and smooth surfaces. So take your hoverboard and enjoy your ride over all terrains.
Levit8ion hoverboard comes with strong and powerful tires of 6.5 inches that can ride greatly overall types of surfaces.
The hoverboard can bear a weight of a maximum of 250Ibs.
You can enjoy the music of your choice with the high-quality sound system connecting with your mobile. So no need to worry about controlling the music tracks.
The non-slip footpads will give you a strong grip and control over the hoverboard. There is no chance of falling off from the hoverboard. You can easily ride it around obstacles.
It has a branded dual motor of 200 watts that has made it a powerful hoverboard and it gives a solid and sturdy ride.
The charger is safe and UL certified thus will not explode. So don't worry as it is safe to ride without any worry.
The hoverboard is a premium aluminum alloy and a very safe and secure hoverboard available in the market at very cheap rates.
So don't stay away to enjoy the ride on this wonderful hoverboard. Also, you can enjoy the stunts on this hoverboard on a rainy day with your friends. However many customers complained about the battery explosion. Its battery burnt out very quickly. But now the manufacturers are working over it and have solved the issue to some extent. So, there is no need to worry. Grab this beast and enjoy your ride with ultra-blistering speed.
Pros & Cons
Pros
Acquires self-balancing technology
It is an all-terrain hoverboard
Very safe and secure hoverboard
Cons
Complaints about battery were reported Because of slow charging
This hoverboard is not designed for the bumpy road
4. Gyroor Warrior 8.5 – Best Family Choice
The task of the Gyroor was to create such a product, which could not miss any single technology. They prepared a gadget that could easily compete for its rivals and generate profit for its company. The company took time in designing such beauty. Although the gadget looks similar to its counterparts it is designed with perfection and many new features. Stop wasting your time and spin in with the Gyroor Warrior.
The abilities of Gyroor Hoverboard is its uniqueness and the quality products used in it. The gadget is very classy and styled with much perfection. Whether you need a warrior to ride or an ordinary board, this one will provide you everything in one go.
After several types of research, we found that safety is the first priority for hoverboard users. Hence, the Gyroor Warrior Off-Road Hoverboard has tested for safety, passing all tests and is UL certified, making the GYROOR warrior G2 hoverboard absolutely safe and harmless for all level of riders.
Sturdy and Durable
Gyroor Warrior is made from durable aluminum and certain ABS parts to ensure a pretty strong body that is sure to stand the test of time. This means that you can use the hoverboard for a long time without having to bother about the longevity of the casing and happy memories. With the GYROOR hoverboard, that vision is now a reality. Say hello to the future.
Specifications
The Gyroor hoverboard is designed with a motor of 350W*2. This full range motor keeps your guide running for a long time. However, you need to charge the batteries to gain a better experience.
The speed of the Gyroor classic is more than 9.95 Miles/Hour. Comparing it with all other hoverboards this one is one of the fastest riders in the hoverboard market. This reliable asset is one of the best options to buy.
Similarly, its Charging Time is approximately 1.5 to 2 hours. Similar to other products this is average charging time for any hoverboard. The gadget is well equipped with powerful batteries to keep it strong for 2 hours.
The distance on the full Charge is 7.5~9.5 miles. An average hoverboard gives you not more than 8 miles in one full charge. Gyroor is an exceptional one. It gives you approx 1o miles in one complete charge. You can hop on and enjoy your ride till complete two hours.
Safety is the biggest problem for any product. Hoverboards had a past and people do not trust them. They need the UL 2272 Certification for a license to sell in the markets. The Gyroor has passed and cleared all the safety tests. It is best to ride anywhere, anytime.
This board has music, speakers. You can ride the gadget and enjoy the pro music speaker. The pro music speaker gives you the full potential to ride the gadget with full enjoyment.
The battery is designed with Lithium-Ion power. It has the potential of 4.0Ah/36V. You can get a full charge in just two hours and stop worrying about any explosion or battery leakage issues.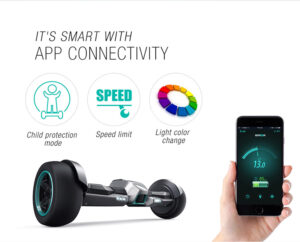 5. Terrains Master
The gadget can run on any road, bumpy place, seashores, beaches, paths, runways and much more. They guarantee you a soft and smooth ride in any kind of place. Stop worrying and hop into your ride. Looking for a place to buy, start searching form different e-commerce platforms.
Water Resistant: IP54
Max Load: 265 Pounds
Net Weight: 33 Pounds.
Max Climbing Angle: 30 °
Frame Material: Metal and Aluminum
Tires: 8.5 inch/215mm Rubber Solid Tires
Charging Voltage: AC100 to 240V/50-60Hz
Product Dimensions: 29.6 Inch x 9.9 Inch x 8.8 Inch
Package Contains: All-New Vehicle, Battery Charger & Power Cord, Carry Bag, Rubber Protectors, User Manual, Card
SUPER STURDY & DURABLE – The Warrior 8.5 inch Off-Road Hoverboard is made from a perfect combination of UL approved materials that make up its sturdy structure that guarantees durability while keeping you safe during rides and allowing you enjoy this hoverboard for years to come.
ALL-TERRAIN RIDES – With 8.5 inch solid tires and 700 watts motor you can be sure of a smooth and easier ride on all terrains. So, feel free to ride on grass, dirt, gravel or wet surfaces. Ride like a warrior!
MUSIC SPEAKER INCLUDED – For the music lovers, we have added a Built-in branded high-quality music speaker to allow you to play your music when riding the hoverboard. No ride will be more fun than this!
SELF BALANCING BOARD – The Self-balancing technology used for this hoverboard makes it easier and safe for new riders. Master the art of balancing in minutes!
OUR SAFETY PROMISE – This hoverboard is UL2272 certified and this means it has passed a strict electrical and safety test to assure safe charging and rides. If you feel this hoverboard is performing below this promise, feel free to contact us.
Pros & Cons
Pros
Best for new riders and easy to use
Music speaker included
Compatible with a wide range of ages
(UL Certified 2272) save for riders
The device can run up to 9.95 mph
Cons
Bluetooth can be supported in a specific range
Very limited instruction of usage about the Gyroor Warrior 8.5
Buy From Amazon
6. Razor – Best Hoverboard For Teen
RAZOR corporation is one of the trusted companies that have been manufacturing air boards. Like others, this corporation has gained trust in its clients. They are among the global leaders that have been creating electronics and recreational products.
RAZOR HOVERTRAX 2.0, is an incredible revolution of the 21st century. This electric scooter is one of the smartest balancing scooters in the market. The engineers of RAZOR tech produced an Ever-balancing technology to be installed in this appliance in order to enhance the experience of the customer. This self-balancing scooter is the only scooter that has an auto-level in order to provide a safe and easy ride to its user.
This board keeps itself balanced with coast riding, racing, and traveling. This air board can be used both indoors and outdoors. The board is transformed into a new and better technology to compete in the market.
Specifications
Razor hoverboard is 2.0 is a UL Certified air board, this board passes all the safety clearances that are essential for its security. This board is a certified and safe board to be used without any reservation.
The self-balancing scooter has a speed limit of 8 mph. the board has a silent 350W motor. This motor is very quiet and silent.
The battery of this small but smart balancing scooter has 36V lithium. This battery is an LG model based on cells. This board has both the options of charging and cells, thus, the user can easily extend its ride more than an hour.
The exclusive scooter is designed with an ever-balancing technology that it balances in its use. This technology automatically levels itself for an easy and smooth ride.
The board has incorporated with blue LED light, a battery indicator. There are two riding modes (training, normal). These modes help in riding the best hoverboard 2021.
The quality of this system is very high. The engineers have programmed it in such a manner that this board offers features, design, and quality altogether.
Razor Features
Razor HOVERTRAX 2.0, has a 350W silent motor. Despite having a silent motor provides full power to its wheels. It silently takes the board from a whisper to a high speed of 8 mph. The motor can run for an hour when it is charged completely. The LG smart battery available in the pack is an incredible addition to this model.
Razor brand was the first to receive the UL certification after the fire hazard incident. This brand has proven its safety, quality, and efficiency in every field. This global brand produced 2.0 with the best quality of parts available in the market.
This was made possible in order to maintain the quality of the brand itself. The addition of bumpers, LED light and battery indicator in this improved version makes it one of the best self-balancing scooter available in the network. The performance of 2.0 is tested by the engineers and they had made it a mission to build a board with the best technology available in the industry. The price of this board is $298.00 on Amazon.com. It has three beautiful colors (black, blue, and white).
Pros & Cons
Pros
An evolved technology
Has a 350W silent motor
The inclusion of a battery pack to the board
Moreover, this hoverboard more of a kids choice
Finally, you can buy the best hoverboard
Cons
The board has no Bluetooth function
With limited color editions and especially for teens
Buy From Amazon
7. EPIKGO – Best Off-Road Hoverboard
The EPIKGO corporation is located in Silicon Valley. This corporation has been producing quality hoverboards for a long time. Due to the explosion and fire problems of the boards, the company called upon its engineers to produce a quality scooter that was an improved version. The previous version of boards produced a higher range of financial problems of all the corporations thus, a new technology of air boards was to be made to overcome these issues.
The corporation wanted to broaden its view and aimed to produce a balanced board that was better than its predecessors. The company aimed to enhance their vision of improved technology, this version was thought to overcome all the safety issues. The EPIKGO was introduced as the new technology that fulfilled all the above requirements.
Specifications
The machine is certified by UL 2272; this appliance has an LG smart battery that is UL certified too. The gadget went under 159 tests that clear it from all safety issues. The gadget is fireproof, and fire hazards.
The EPIKGO has 400W of battery installed in it. This battery is an LG smart battery that is excellent for this kind of gadget. The appliance has a Dual motor installed in its tires, that helps the appliance climb through slopes and steep plains. The battery is fully charged can last approximately over 1 hour and can run 10 miles of range. This self-balancing scooter has the most powerful battery available on the market.
The EPIKGO has designed the tires with alloy. These tires are 8.5 solid rubber tires that enhance the experience of a user, these tires help the gadget climb steep terrains. These tires are rated IP56 that are solid and water-resistant. All these features help a user run through grass, sand, mud, and water puddles.
EPIKGO has delivered this air board bigger and better. This gadget is two times more powerful than its old version. The board is designed 30 percent larger to provide the user extra space for adjusting his feet.
This extraordinary piece comes in with a backpack to carry it anywhere, this backpack itself is waterproof, that keeps the gadget safe from further damage.
EPIKGO technology is improving day by day.
Similarly, our EPIKGO has the ability to compete with the list of best hoverboards around.
Epikgo Features
The corporation introduced this self-balancing scooter with enhanced technology, this technology resulted in achieving an efficient, faster and lager EPIKGO, to provide an advanced and adventurous experience to its client. This hoverboard has intelligent protection keeping its utilizer away from any damage. This feature protects the machine from any kind of fire hazard.
The body of this air board is designed by an advanced quality of Aluminum alloy body frame. It is durable and waterproof with an IP56 rating. The speed and acceleration of EPIKGO, its control, and sophistication, evolved the experience of this product.  After passing 159 tests this could very easily became one of the best hoverboards on the market. The scooter corporation provides an instruction manual for initial steps.
Pros & Cons
Pros
The board has passed 159 tests for safety clearances
This gadget is a better version of its predecessors
The board is designed with 400W of dual motors
The pack includes a waterproof backpack
The corporation introduced new and better technology on this board
Cons
The machine has a higher price
There is no LED light in this tool
Buy From Amazon
8. Swagtron T6 – Expensive yet AWESOME
The research of our platform has brought forward a popular board that is different and unique in the distinction of others. The qualities and features this board possess have helped it gain a number seven in our best scooters list.
The design shows that this air board was designed in order to generate a piece that could work in every possible condition.
The engineers of this piece manufactured it in such a style that it would work at all, harsh off-road conditions. Whichever spot you choose to utilize it T6 would never disappoint you.
T6 is a supporting scooter that helps you travel at any off-road traveling situation. They can be mountainous ranges, plains, muddy hills, deserts. The appliance keeps you balanced and on target. Never lets you lose your focus.
Specifications
The board is manufactured with an excellent quality of aluminum and ABS plastics that help it protect its internal components. These components help this board to travel through any possible condition.
The 10 inch tires of this gadget are designed in a tubeless manner that helps it maintain and balance this board. These tires are eminent in making a user's ride adventurous. The tires are infused with nylon that enhances the movement towards the board and maintains its balance. These tires are 10″ and Dual-rugged.
The appliance has a Bluetooth function installed in it to play music and to enjoy your ride.
This self-balancing scooter is UL certified, that certifies it to be safe and reliable from any hazard and damage.
T6 can handle heavy loads, this board is the first of its kind that can handle weight up to 420 lbs. This weight limit is the highest provided the boards available in the industry. T6 has metal guards to protect the user of every shape and size through travel in every condition.
T6 has a 12 miles range and has the power to reach the speed of 12 mph.
T6 has a good for the off-road traveling situation
Swagtron Features
The T6 has a lithium-ion battery, that can be charged just within 3 hours. This charging time is an essential one for all the quality boards in the industry. Once fully charged this battery provides a long and adventurous ride to its users. The appliance has three awesome colors (Black, Desert camouflage, and Pink camouflage). The machine is currently sold at Amazon.com at $449.99.
The board is high priced due to the features it provides for its customers. T6 comes with a one-year warranty card and can be replaced within a one-year time period if any defect found. T6 has a battery life indicator, turning signals and LED lights. These functions are installed in the body to keep a check on a machine. This electric scooter can be used by both kids and adults. The best scooter is rated IPX4, this helps it travel through puddles of water. The appliance is safe and has been certified to its competence. These features make it the best hoverboard 2021.
Pros & Cons
Pros
T6 has a Bluetooth function
One-year warranty card
Similarly, the price is too good to deny it the title of best hoverboard 2019
Moreover, it is an IPX4 rank
Finally, it is safe for kids to use
Cons
The T6 has a high price
T6 has a Bluetooth with low signal. Colour is limited at least unique
Buy From Amazon
9. AOB SMART GO Z1Plus – High-Grade Hoverboard
AOB Company is founded newly in the market and trying their best to provide their customers the high quality and safe hoverboards according to their customer's will. The hoverboard Z1 plus by AOB company is UL certified hoverboard safe to ride by both kids and adults.
If you want to do thrilling tricks of hoverboard then you must have some high grade and powerful hoverboard. Don't worry, this AOB SMART GO Z1Plus Hoverboard is the one you are looking for. It is a perfect solid hoverboard for adults who want to do divergent stunts over hoverboard.
Features of AOB SMART GO Z1Plus Hoverboard:
AOB SMART GO Z1Plus Hoverboard is the one that is full of exciting features. Once you have a look at its features I can bet you will become a fan of it. So, before wasting any more time have an eye at the below-listed features of hoverboard:
The hoverboard is very safe from fire catching and electrical hazards. Moreover, you can enjoy its ride in wet places. It is the water-resistant hoverboard
The attractive hoverboard is aligned with Superb LED lighting system with an overall golden body frame
The illuminating LEDs will allow you to ride a hoverboard at night. Thus you can enjoy its ride without being afraid of off roads
If your kid is master in showing the stunts then this hoverboard is best for him to enjoy the stunts
The self-balancing scooter can bear a weight of about 225Ibs. Is suitable for both kids and adults to ride
It has 6.5-inch sturdy wheels. It covers a distance range at the speed of 10mph in one charge in about 60 to 90mins
The charging time is approximately 2-3 hours. That is a very suitable time to charge a hoverboard
You can enjoy the clear and cool music during the ride with its entertaining feature of the inbuilt Bluetooth sound system
The strong body frame is in golden color with an attractive and classic touch. It is water-resistant so is anti-splash
The negative aspect includes the rapid loss of the charging. If you reach the maximum top speed of the hoverboard, the charging of the battery ends up rapidly. Otherwise, this hoverboard is a very suitable and budget-friendly luxury hoverboard. Enjoy a memorable ride with this self-balancing scooter.
Pros & Cons
Pros
UL Certified safe Hoverboard
Attractive look at night
Suitable for both kids and adults
Best hoverboard 2018 and 2017
Finally, it is safe for a teenager
Cons
Complaints about battery life have reported
They don't have a wide range of colors that's why this is not for kids.
Buy From Amazon
10. Hoverheart Hoverboard– Best for Budget-Conscious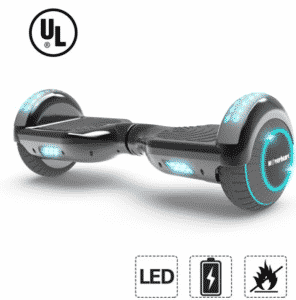 Hoverheart has a huge name in the sphere of tech-rich gadgets. This time it has attracted the adventurous lovers by its elegant looks and of course high-grade features.
Hoverheart gold hoverboard is very unique in its amazing features. After going through the features of this superb luxury hoverboard you will definitely love to have it today. So, before wasting any further time, readout the features of this amazing hoverboard and decide the color of your Hoverheart Hoverboard without any delay.
Specifications
Below are the amazing and electrifying features of Hoverheart hoverboard:
The hoverboard is very safe as it is UL Certified Hoverboard. It is an anti-fire hoverboard. 100% durable and safe
There is an attractive lightening system on the body frame allowing you to enjoy the devil stunts with your friends at night time
TIt is assembled with a high-quality sound system. You can enjoy your favorite soundtracks by connecting the inbuilt Bluetooth sound system with your mobile app.
Beginners should avoid riding it. It lacks the self-balancing technology for the beginners
It has sturdy 6.5 inches all-terrain tires which ensure your smooth ride everywhere including the off roads
It takes 2-3 hours to charge and as a result gives an enjoyable ride to cover a distance of 10miles.
If you want a blistering speed hoverboard then this hoverboard by Hoverheart is perfect for you. As it comes with the top speed of 10mph.
Down Side of Hoverheart Hoverboard:
The only downside that will make you sad is that it is not a water-resistant hoverboard. You can't enjoy its ride on a rainy day. However, the hoverboard is available in the market in many colors. You can buy the hoverboard of your color choice. Enjoy the pleasurable ride with this marvelous hoverboard at cheap rates.
Pros & Cons
Pros
Very cheap hoverboard
Anti-fire body frame
An instruction manual helps in gaining a better experience.
Not easy to ride for beginners
Certified with UL
Cons
SURFUS does not provide a warranty card
It is a little heavyweight to carry around
Buy From Amazon