A Quick Introduction to the Safest and Best Hoverboards for 2022
The world was quickly enthralled by hoverboards after their introduction in 2013. They are no doubt some of the trendiest gadgets ever created. In fact, it was estimated that by 2021 every 5th person in the world would own a hoverboard. For those who are new to this trendsetting technology and interested in a hoverboard purchase, we present you with the best hoverboards to buy in 2022.
Hoverboard Safety
Before we jump into the products, let's address safety. Unfortunately, battery reliability has emerged as a setback to the hoverboard market, and several product recalls related to battery & charging inefficiencies have been implemented due to fire hazards, with some being quite serious (or even deadly). The Consumer Product Safety Commission has issued safety alerts as needed, resulting in recalls and many angry customers. However, as with most new technologies, hoverboard suppliers have aggressively tackled these problems to develop effective and safe solutions.
The latest boards have been re-designed with improved technology.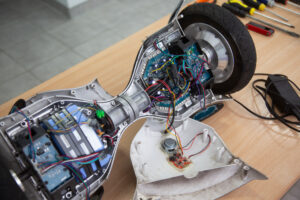 Hoverboard Technology Improvements
Improved Batteries
Improved Charging Systems
Streamlined Power Consumption and Efficiency
All this Equals – IMPROVED SAFETY!
Note that hoverboards purchased before January 29, 2016 are not UL 2272 compliant. Almost all hoverboards purchased after January 29, 2016 are compliant.
If you already own a hoverboard, be sure to contact your manufacturer to understand which type you have and take necessary precautions. Click here here for key CPSC recommendations.
After the charging problems were identified, people were somewhat hesitant to buy hoverboards. Customers became cautious and people avoided buying even from a genuinely reputable firms. Let us assure you that contemporary hoverboards have been updated with new technology. They have been converted into safer, more secure products and are now certified per UL2722. You can now choose from the best hoverboards with confidence. In this guide, we'll help you choose a safe and secure hoverboard.
Selecting a New Hoverboard
Finding a good hoverboard from all the available manufacturers and models can be challenging. To help with this, we have created this list of our top ten hoverboard choices. We have researched the market, and after considering each product, we have created a list of key features and other details to compare the good and the bad. These hoverboards have been chosen due to their enhanced functions, reliability, and overall technology.
Scan this list for to pick your best hoverboard this year.
Are you considering a hoverboard purchase for entertainment or to travel around your neighborhood, or even the city? As you gain riding talent, you are sure to impress your friends, family, employees, and who knows who else! Hoverboards are one of the best gadgets available on the market for fun and transportation. These "transporters" are designed for a good time, and they can make your life easier (once you know how to ride one). If you are on the fence about which hoverboard to choose, this guide will help you. As with any eDrive vehicle, the more advanced hoverboards are quite powerful and have an element of performance that will take your breath away.
1. Gyroor G-F1– Best Hoverboard 2022
Gyroor Hoverboard resembles novelty items due to its exciting and futuristic features. Most hoverboarders and adventurers are hunting for the fastest hoverboard because they need blistering speed and nothing else. For those searching for an ultra-blistering speed hoverboard and a full-fledged power back hoverboard, the Gyroor G-F1 racing hoverboard is the best choice.
Due to its novelty features and supreme quality performance, the Gyroor G-F1 racing hoverboard is listed at the top of our list. This hoverboard has a sturdy board and powerful features. More to this, its silver shiny body with built-in LED lights sparks from far away and attract the attention of both kids and adults.
Distinguishing Features:
One of the most powerful hoverboards in the world. This board is made of 85% aluminum and some ABS materials.
One of the safest hoverboards and possesses multiple safety certifications from UL, CE, FCC, and RoHS.
Offers a robust and sturdy ride due to the 8.5 inch tires and plenty of power with the dual 350 Watt motors.
For all those who love hearing the racing sound of the automobiles, this Gyroor G-F1 racing hoverboard features an audible racing car sound along with its solid ride.
The striking silver color really sets off this hoverboard and makes it truly unique and attractive.
The lightweight design is portable, so you can carry it anywhere to go for a ride.
Pros & Cons
PROS
Has a racing sound
Comes with some amazing novelty features
Battery is easily removed and replaced
UL 2272 safety certified
Comes with an app control feature and self-balancing switch
CONS
Not suitable for bumpy terrains
No warranty details are provided
Specifications:
| | |
| --- | --- |
| Bike Type | Electric |
| Age Range (Description) | Adult |
| Wheel Size | 8.5″ |
| Uses | Road |
| Suspension Type | Front, Rear |
| # Speeds | 15 |
| Special Features | Portable |
| | |
2. MegaWheel Golden – Smartest Hoverboard 2021
Megawheel is a renowned company known for manufacturing reliable, durable, and safe hoverboards. The MegaWheel Golden is one of the best-manufactured Megawheel hoverboards. This high-quality self-balancing scooter is suitable for people of all ages and is affordable for all pocket books. It is packed with exciting features and is water-resistant. You can even enjoy its ride and do your stunts during rainy days!
In our opinion, this is one of only the smartest hoverboards in the world.
Important Features
UL certified with an attractive look. Ride it without worry.
MegaWheel offers several different exciting colors.
Entertainment is provided by the built-in Bluetooth sound system.
The 6.5 inch solid rubber tires and the non-slip foot pedal provide secure grip and control.
Along with the smart features, it is the one of the fastest standard hoverboards and can cover a distance of 10 km at a speed of 7.5 mph.
Suitable for people of all ages and can support weight up to a maximum of 242 pounds.
Eye-catching and fascinating LED lighting system. While not recommended, it is possible to use the illumination to ride at night time.
Pros & Cons
Pros
Safe to ride both on and off roads
Suitable for both kids and adults
UL certified which prevents electrical hazards
Best rated hoverboard in 2019
Warranty
Cons
Charging time is too long
Warranty is too short
3. Levit8ion – Fastest Hoverboard
The Levit8ion is not only the smartest hoverboard, but also provides high-quality premium hoverboard features at the best price. The feature that has given it next-level success is its blistering speed. If you are surfing for the fastest hoverboard to enjoy a thrilling ride, then this hoverboard is your perfect choice.
Specifications
Here's a summary of the most amazing features of this hoverboard:
The two-wheel self-balancing scooter is UL certified and water-resistant. It is safe from fire risk, electric shocks, and water damage.
Budget-friendly.
The hoverboard can cover a distance of 15-20 km at a top speed of 8.7mph. This is a top speed amongst all hoverboards available in the market.
All-terrain hoverboard. It perfectly covers the journey on and off roads and smooth surfaces.
Strong and powerful 6.5 inch tires that can ride over all types of surfaces.
Maximum weight of 250Ibs.
Enjoy the music of your choice with the high-quality sound system that can connect with your mobile.
Non-slip footpads give you a strong grip and control over the hoverboard. You can easily ride it around obstacles.
Branded dual 200 watt motor makes it a powerful hoverboard with a solid and sturdy ride.
Safe and UL certified charger that will not explode.
Premium aluminum alloy that is very safe and secure.
Grab this beast and enjoy your ride with ultra-blistering speed.
Pros & Cons
Pros
Self-balancing technology
All-terrain hoverboard
Very safe and secure
Cons
4. Gyroor Warrior 8.5 – Best Family Choice
The Gyroor Warrior was carefully designed to be a full-featured product. Although the gadget looks similar to its counterparts, it has been outfitted with many new features. Stop wasting your time and spin in with the Gyroor Warrior. This gadget is very classy and styled to perfection to meet the needs of every user in one go. Even more importantly, the Gyroor Warrior Off-Road Hoverboard has undergone extensive safety testing and is UL certified.
Sturdy and Durable
The Gyroor Warrior is made from a combination of durable aluminum and ABS parts to ensure a strong body that will stand the test of time. Its high quality means this model will outlast many of the others on the market, giving you the best bang for your buck.
Specifications
Dual 350W motors that provide a long ride time.
Top speed of 9.95 mph – one of the fastest riders on the hoverboard market.
Average charge time of approximately 1.5 to 2 hours.
About 7.5-9.5 miles on a single charge.
UL 2272 certified.
Built-in Bluetooth speakers.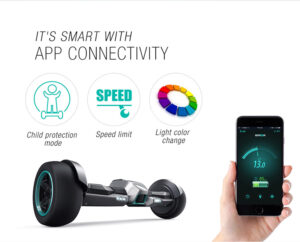 5. Terrains Master
This hoverboard can run on any road, beach, path, runway, or other bumpy terrain. The Terrains Master guarantees you a soft and smooth ride no matter where you go.
Specifications
IP54 water resistance.
Max load of 265 lbs.
Net weight of 33 lbs.
Max climbing angle of 30°.
High speed up to 9.95 mph.
Made of durable aluminum.
8.5 inch/215 mm rubber tires.
AC 100-240V/50-60Hz charging voltage.
Product dimensions – 29.6 inch x 9.9 inch x 8.8 inch
700W motor
Built-in music speakers
Self-balancing technology
UL2272-certified
Pros & Cons
Pros
Best for new riders and easy to use
Compatible with a wide range of ages
Fast speed
Cons
Bluetooth is limited to a specific range
Very limited user instructions
6. Razor Hovertrax 2.0 – Best Hoverboard For Teen
RAZOR is one of the most trusted air board manufacturers. The Razor Hovertrax 2.0 is an especially incredible innovation. This hoverboard is one of the smartest self-balancing models on the market. The Hovertrax 2.0 is equipped with ever-balancing technology including an auto-level to enhance the riding experience. This board keeps itself balanced during coast riding, racing, and traveling and can be used both indoors and outdoors.
Specifications
UL-certified.
Speed limit of 8 mph.
Silent 350W motor.
Get over an hour of riding time with the 36V lithium-ion battery.
Ever-balancing technology that self-balances during use for an easy and smooth ride.
Blue LED battery indicator.
Two riding modes – training and normal.
High-quality system.
Pros & Cons
Pros
Advanced technology
Self-balancing features
Beginner friendly
350W silent motor
Cons
No Bluetooth function
Limited color options
7. EPIKGO – Best Off-Road Hoverboard
The EPIKGO is high-quality and safe. This balanced board is more advanced than its predecessors and provides an excellent ride.
UL 2272 certified.
LG smart battery.
400W battery.
Dual motor that helps the appliance climb steep slopes.
Over 1 hour and 10 miles of range on a single charge.
Solid rubber IP56-rated, 8.5 inch tires.
Come with a waterproof backpack carrying case.
Pros & Cons
Pros
Most powerful battery on the market
Powerful dual motors
Long range
Cons
8. Swagtron T6 – Expensive yet AWESOME
The Swagtron T6 is designed to work in all settings, including harsh off-road conditions. The T6 is a self-supporting scooter that helps you stay balanced and on target during any off-road traveling situation.
Specifications
Manufactured from high-quality rugged aluminum and ABS plastics.
Large 10 inch tires infused with nylon with a tubeless design to help maintain balance.
Built-in Bluetooth.
UL-certified.
Large 420 lbs weight capacity.
Metal guards to protect users of every shape and size.
Long 12 mile range.
Charge time of 3 hours.
Max speed of 12 mph.
One year warranty.
Battery life indicator.
Turn signals.
LED lights.
IPX4 rated, making it safe to ride through water puddles.
Pros & Cons
Pros
Bluetooth capability
One-year warranty
Long range
Water resistant
High weight capacity
Cons
High price
Limited color options
9. AOB SMART GO Z1Plus – High-Grade Hoverboard
AOB is new to the hoverboard market and dedicated to providing high quality, safe hoverboards. The Z1 Plus by AOB is UL-certified and safe for both kids and adults. If you want to do thrilling hoverboard stunts, then don't look further than the Smart Go Z1 Plus.
Specifications
Water-resistant.
Superb LED lighting system that will allow you to ride at night.
Weight capacity of 225 lbs.
Sturdy 6.5 inch wheels.
Ride time of 60-90 min.
Max speed of 10 mph.
Charge time of approximately 2-3 hours.
Built-in Bluetooth sound system.
Self-balancing.
Pros & Cons
Pros
UL-certified
Attractive look at night
Suitable for both kids and adults
Best hoverboard of 2018 and 2017
Cons
Short battery life.
Limited color range.
10. Hoverheart Hoverboard– Best for Budget-Conscious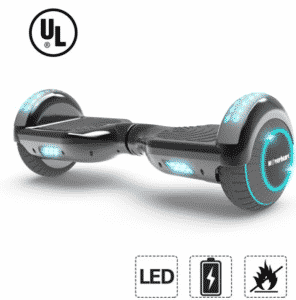 Hoverheart has attracted adventurer-lovers with its elegant looks and high-grade features designed with advanced riders in mind.
Specifications
UL-certified.
Attractive lighting system allows for night riding.
High-quality sound system with built-in Bluetooth.
Sturdy 6.5 inch all-terrain tires.
Charge time of 2-3 hours.
Long range capacity of 10 miles.
Fast max speed of 10 mph.
Pros & Cons
Pros
Very cheap hoverboard
Anti-fire body frame
An instruction manual helps in gaining a better experience.
Not easy to ride for beginners
Certified with UL
Cons
No warranty.
Not water-resistant.
No self-balancing.
It is a little heavyweight to carry around