The safety kit including a helmet and gloves is one of the most significant pieces of protective equipment while skating.
You must protect the brain and head if you want to prevent some form of concussion, head injury, or brain injury. Eventually, you need to protect your wrist and bones to avoid any kind of fracture.
Skateboarding accidents sometimes result in serious injuries for young children. Skateboarding poses a particular danger to young children due to their higher center of gravity, lack of growth, and poor balance.
Children are more likely to fall and injure their heads, knees, or elbows as a result of these factors
Best gloves all time
Importance of Gloves
When dropping, humans instinctively bring their hands forward to avoid head injury. Gloves can provide effective padding to shield the hands and wrists in these circumstances. Skateboarding gloves are mostly designed to shield you, but they can also assist you with maneuverability and tricks
If you will not wear Gloves
Cuts and bruises, sprains, and broken bones are the most common injuries, according to them. Wrist fractures are a common occurrence, but wrist guards have been shown to provide excellent protection. Skateboarders are also prone to facial injuries such as broken noses and jawbones.
Hence gloves are an important element when it comes to electric skateboarding because you cannot predict the speed of your board. So to avoid any kind of injury and hard time for yourself, you should wear gloves for every ride. It is very important to save yourself from any harm while enjoying the sports you love
6 Best skate gloves
Gloves play an important role in determining the confidence of the rider and hence it helps improve the overall ride experience. A helmet protects the head from any major injury, wrist guards protect the wrist while falling, knee and elbow pads protect the joints and gloves improve the ride experience and helps protect the fingers of the hand.
1. LOSENKA Skateboard Gloves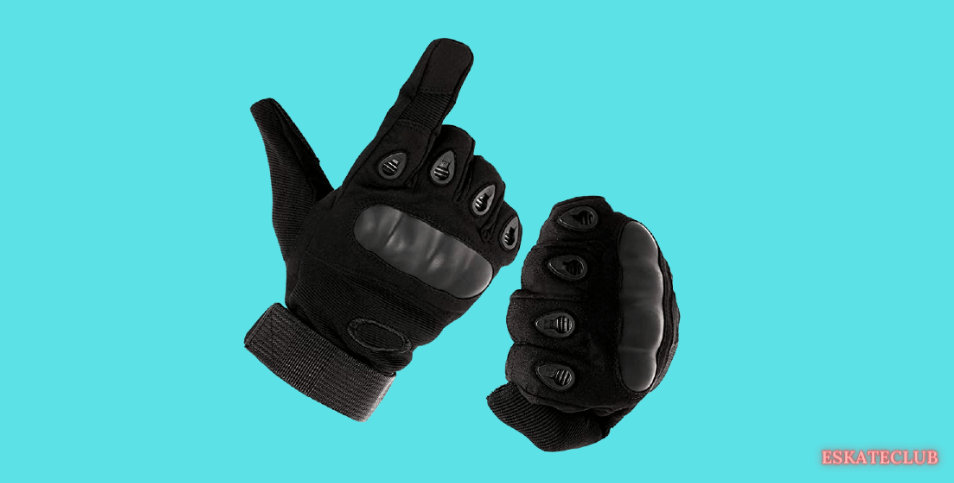 LOSENKA skateboard gloves are known as the best air-permeable sand hole design gloves. The quality of the material is very fine and it offers significant benefits Such as
As the LOSENKA gloves are made up of a soft foam pad that reduces tension and pressure in the hand while crashing.
It also protects the hand from all sorts of injuries and bruises.
The adjustable straps at the wrist make it firm and stable and it never falls off your hand even when you crash with the ground.
As it contains air-permeable space which makes it even more breathable and hence helps rider sustain the focus on them instead of on the sweat in the hands.
2. YOGOGO Skateboard Protective Gloves
Black colored standard electric skateboard gloves made up of velcro with polyester fiber wrist wrap are known as good and cool gloves for daily commuting and riding. YOGOGO gloves are good within a decent price range and offer several good benefits to the rider, that includes:
YOGOGO skateboard protective gloves are made up of high-quality Velcro material that is firm and sturdy at the same time.
It keeps the hand safe from scratches and maintains the confidence of the rider.
These gloves do their job in very few bucks so if you are looking to buy gloves for your practicing sessions you could consider YOGOGO skateboard protective gloves.
3. Triple 8 Hired Hands Wrist Guard Gloves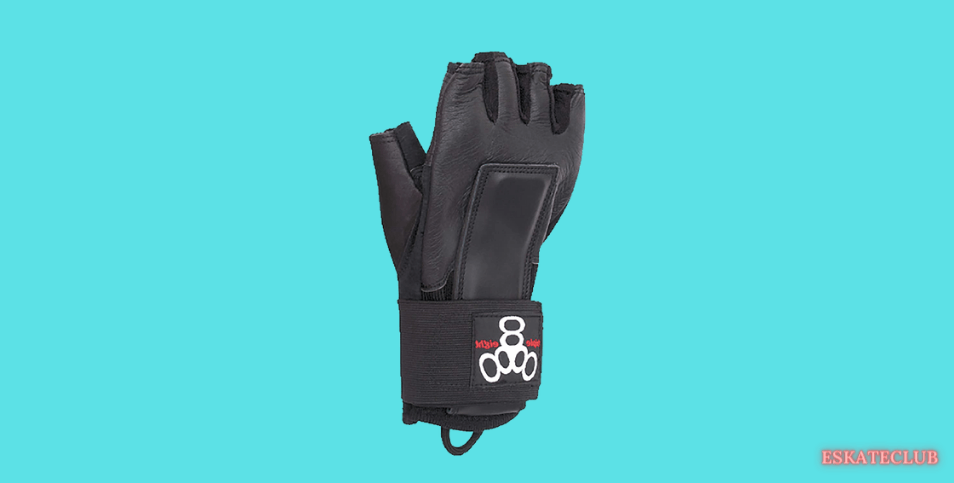 Triple 8 hired hands wrist guard gloves can save you from breaking your ankles while crashing on the road or ground. On 25 mph front flip off an electric skateboard these gloves protect your hands, fingers, and ankles. So to fight against the classic FOOSH accident that often results in broken wrists, use Triple 8 hands wrist guard gloves. These are considered as best gloves because of the following reasons:
Triple 8 gloves contain the distinguishing feature of hook and loop closure. That makes it firm, close-fitting and reliable over other brands.
It is made up of top-like leather material and the rigidness makes it worthwhile.
It also contains impact-resistant ABS which is crucial for any safety item.
The EVA shock absorbance foam makes it comfortable, comfy, and sturdy at the same time.
Variation of different sizes makes it an, even more, better product over other competitive brands.
Neoprene support straps don't only ensure the close-fitting of the gloves but also protect the wrists. So you wouldn't need any wrist pad if you buy these multipurpose triple 8 gloves.
4. Wrist Guards LALATECH Skateboard Gloves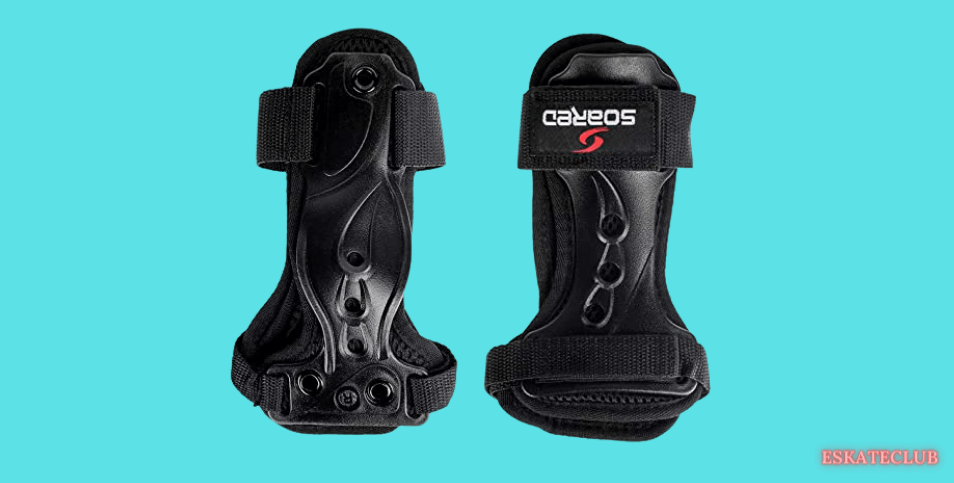 LALATECH skateboard gloves are best known for multipurpose use. Meaning you can use them for skiing, skateboarding, kiteboarding, inline skating, rollerblading, and many more. This unique pair of gloves plus wrist guards are good to go for every sport. You can use these gloves aka wrist guards to protect your hands, finger joints, and wrist at the same time. So isn't it a good product and all-in-one deal? So let's see the maximum possible benefits we can have from LALATECH wrist guards skateboard gloves and let's just get our hands on it:
To support the shape of a hand two sider impact splints are made with a high degree of versatility.
Velcro strap makes it a custom product and you can close-fit the wrist as per your size.
Thumbhole makes it even easier to use and accessible.
To withstand impact, the palm is cushioned with a foam cushion. The improved support points are intended to provide extra protection for fragile handpieces, such as the scaphoid bone, in the event of a fall.
5. LINGHANGST Skateboard Gloves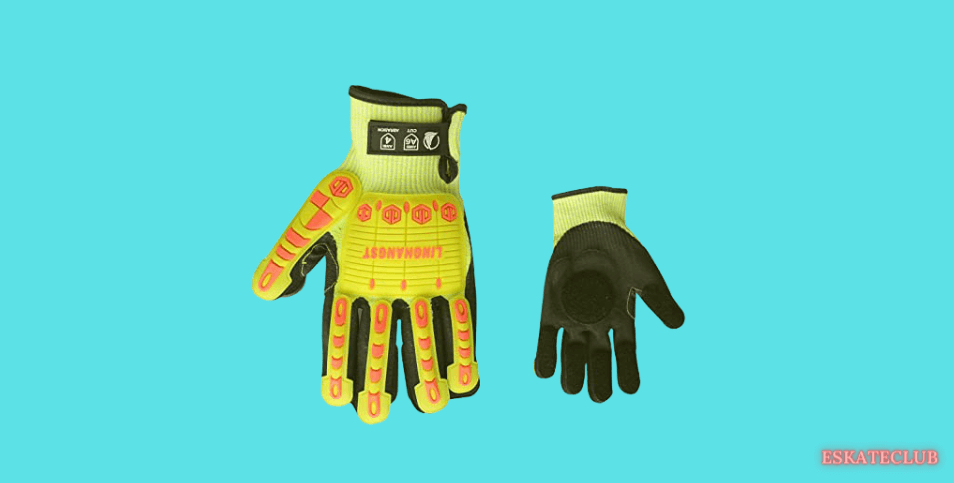 To retain balance or turn when skateboarding, we must always hold onto houses, telephone poles, trees, or even the ground with our hands. These items are typically not quite flat and can easily injure the hands. As a result, it's important to have a good pair of gloves like LINGHANGST that are both comfortable to wear and protect the hands from injury. LINGHANGST are good electric skateboard gloves because of certain reasons:
13-pin HPPE glove core makes it strong high-cutting resistance and abrasion resistance.
Adjustable straps make it as convenient to use as other gloves.
Like Profession Skateboard Glove it contains a removable slider puck that protects the joints.
Florescent TRP makes it eye-catching and you can even use your hand to give a signal at night cruising.
6. Profession Skateboard Gloves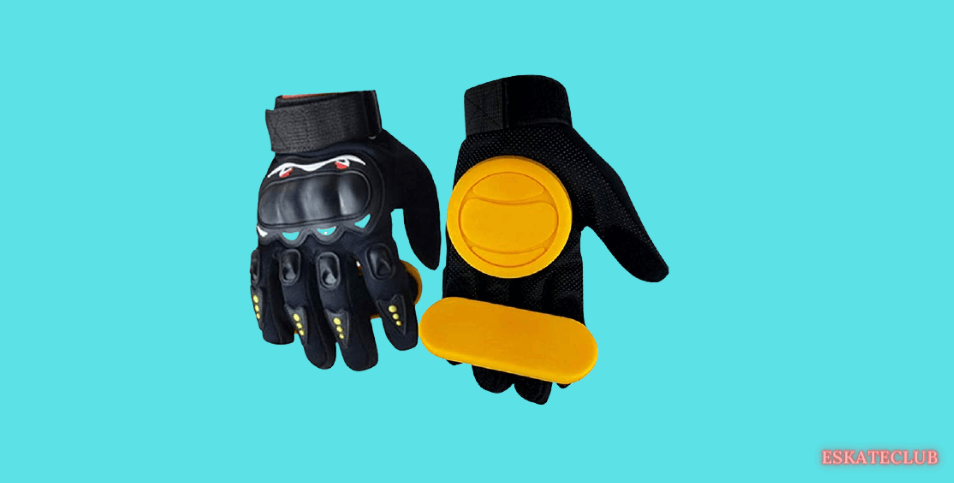 The best palm and fingers support makes Profession Skateboard gloves professional for riders of every age group. The material is smooth with palm pucks which reduce the rates of hand injury by near to zero percent. One can use it for different purposes like practicing, drifting, dancing, and stunting. Profession Skateboard Gloves are considered because of several reasons, such as:
The palm and finger support is exclusively designed to protect the hand from injury completely and aids in braking too.
The adjustable and moveable straps make it even better for adjustments and prevent the gloves from falling off.
The circular slider on the palm is made up of granular matter fabric that converts the rigid surface into a moveable and easy-to-handle entity.
Adaptable and breathable mesh hole makes it durable and airy. You wouldn't feel any suffocation using Profession Skateboard Gloves.
Conclusion
Like other safety items, gloves are important to use while riding. The above-described products are considered the top 6 best skateboard gloves that can be used for different sports as well. So as per your need consider the appropriate product for yourself and enjoy a safe and fun ride.
FAQS
Q- Should you wear gloves when skateboarding?
A- Protective gear is a must-have for every kind of sport. Just like a helmet is important to protect the head from injury. The gloves are also important to protect the hands from hand or wrist injury. Gloves are vital because people sometimes use their hands to catch themselves when they fall. You won't scratch your hands if you wear gloves.
Q- What are skateboarding gloves used for?
A- During a ride, there is a higher risk of falling. It's human nature we protect ourselves from any harm with the help of our hands. Hence upon falling when you protect yourself from road scratches with the help of your hands. Hence at that time gloves play a vital role to protect your hands from being broken.
Q- How long do slide gloves last?
A- Slide Gloves lasts for 2 to 6 months. It solely depends upon the material and quality of the product. If the gloves are made up of high-quality durable fiber with leather covering and sustainable Velcro straps then they may live longer.
Q- How do you protect your hands on a skateboard?
A- The safety kit includes different products for the safety of several body parts. Just like the elbow, knee, and head, hands do require a covering and protection. So gloves play their part and protect the hands of the rider while riding.
Q- Do you need gloves for longboarding?
A- If you're cruising around, pulling freestyle tricks, freeriding, or speeding downhill, make sure you're properly equipped with a helmet, padding, and gloves. Wear serious protection if you're going at a serious pace. So yes gloves are indeed important for longboarding.