Backpacks are essential belonging for any sport. So when it comes to skateboarding, people love to have a backpack with them which will ease the ride. In this article, you will get to know the 6 best skateboard backpacks that are easy to go choices for all of you
What are Backpacks?
Backpacks are a kind of bag in which you can carry your skateboard and other vital belongings whenever you go out. It helps you transport your skateboard, whether it is an electric skateboard or a traditional skateboard.
Backpack and Its Benefits
Before we get into the specifications of the best skateboard backpack, we need to understand their usage and why backpacks are essential for daily cruising.
Backpacks and their need in skateboarding are crucial when it comes to organizing your belongings for a long ride. For example, have you have experienced rummaging through your pockets when you are trying to find something? Or have you ever faced a hurdle in searching money out of your pocket in no less time?
You can avoid all the inconvenience by getting a more innovative and valuable backpack for yourself. There are enormous benefits of using backpacks even when you are off to travel or even studies. A good backpack helps you transport your skateboard and its belongings from one place to another
Backpacks and their Purpose
Most people prefer going out with many important things that they might require all the way long. So backpacks are organizers that help you fold away your credentials and essential belongings along with you.
6 Best Skateboard Backpacks
So if you are looking to ease yourself for the long run, get the best backpack for a good riding experience. Here we have summed up a list of backpacks that you may need.
1. GoRide Electric Skateboard bagback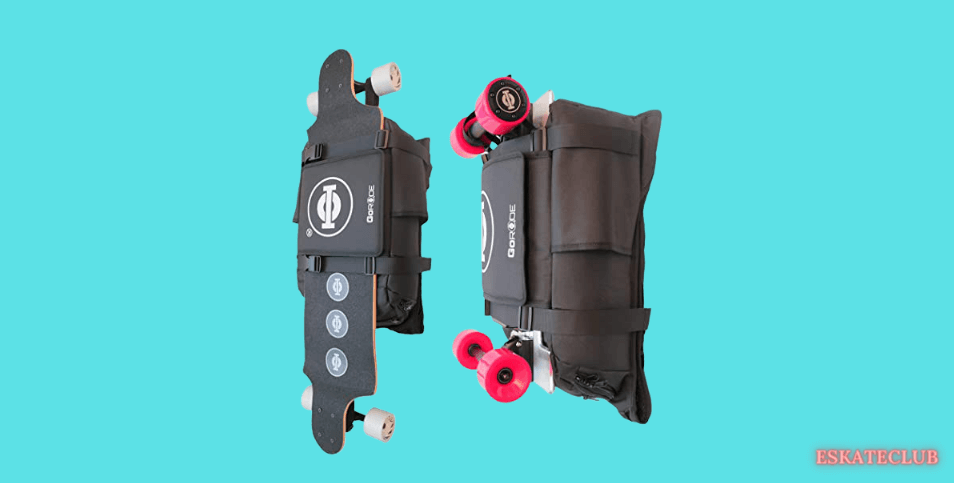 GoRide electric skateboard or regular longboard backpack is best known for the heavy skateboarders. You can use it for school, college and even for adventures. This is considered a 3 in 1 backpack. The GoRide electric skateboard backpack is aesthetically made and is distinct and sharp. The major specifications of the GoRide longboard backpack are as below:
The GoRide electric skateboard backpack's handle and shoulder straps are padded.
It contains double board straps, which are convenient to use.
Back cushioning and breathable mesh makes it even more helpful for daily riders.
Try to use sternum straps and a hip belt when carrying big things. As for even weight distribution and superior support, this backpack is considered ideal.
GoRide also contains two pockets as a bottle holder.
GoRide electric skateboard backpacks are designed for excellent weight support, and double bottle holders are ideal for travel and trekking. It also owns adjustable shoulder straps and hip belts that provide the best fit and comfort for even weight distribution.
2. Simbow Skateboard Backpack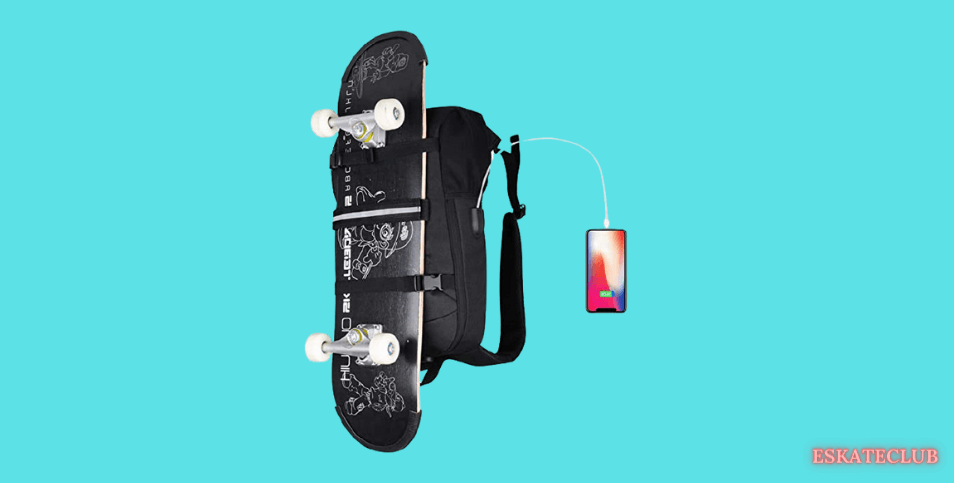 Show skateboard backpack is made up of excellent quality and is usable for every kind of sport. The casual backpack features a simple and beautiful design that makes it an ideal present for everyone. So if you are intended to buy a skateboard backpack for yourself, give a read to its major specs and make your decision.
A single luggage belt design on the back of the Simbow Skateboard backpack aids in the release of your hands and back, making your travel and work trip more convenient.
The backpack changing bag is 35*19*45cm and holds 30 liters, making it ideal for 15.6-inch laptops.
It includes two front velcro straps to hold your skateboard, as you'd expect from a skateboard backpack.
This Simbow skateboard backpack is certainly well crafted. So if you are on the search for the highest quality backpack and features many specific requirements, this Simbow skateboard backpack is best for you.
3. Inktells Electric Skateboard Backpacks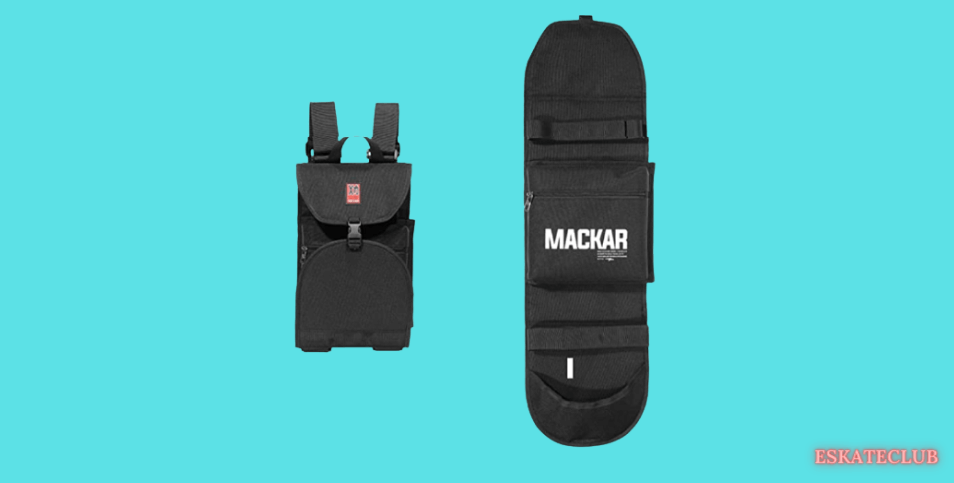 If you want to transport your board, this backpack (Inktells) has proven to be the most effective so far. It helps well when transporting and carrying your board, and it gets the job done. It appears to be well-made. There are no loose stitches at all in the Inktells backpack. Here are the main things you need to know about Ink tells electric skateboard
It comes in expanded size and contains Velcro and bottom pocket support.
Inktells skateboard is appropriate for 95 cm longer boards; hence if you are a daily commuter or an adventurous rider, this board fits well for you.
The skateboard bag is robust to handle heavyweight skateboards.
Padded shoulder straps can be changed into different lengths to evenly distribute the weight of the skateboard and make it more pleasant to carry.
Inktells skateboard backpack is considered a water-resistant product, meaning if you have an electric skateboard, you can easily grip this board along with you even in the rain. This electric skateboard is wear-resistant and tear-resistant, meaning you don't need to worry about its quality.
4. Eggboards Skateboard Backpack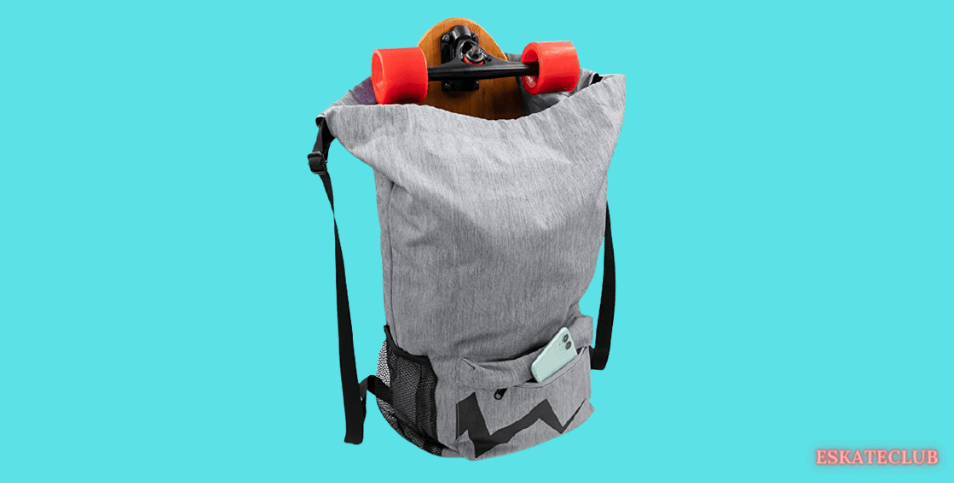 The Eggboards skateboard backpack allows you to carry your board with you at all times. It has a specific waterproof pocket that fits skateboards. Eggboards skateboard backpacks are specifically created for your long and giant boards. Users of Eggboard backpacks can store their skateboards in a waterproof pocket.
Whenever you use an Eggboard backpack, keep your belongings dry. The bag is waterproof and has an interior zipper compartment.
You can get to the beach using holding this backpack. A closed zipper pocket protects your belongings out of the sand.
Excellent for travel. A carry-on bag with enough capacity for your essentials and your board.
Eggboard backpack owns a system of Quick Straps Drawstring straps that allows for quick opening and closing.
5. IWONDER Electric Skateboard Backpack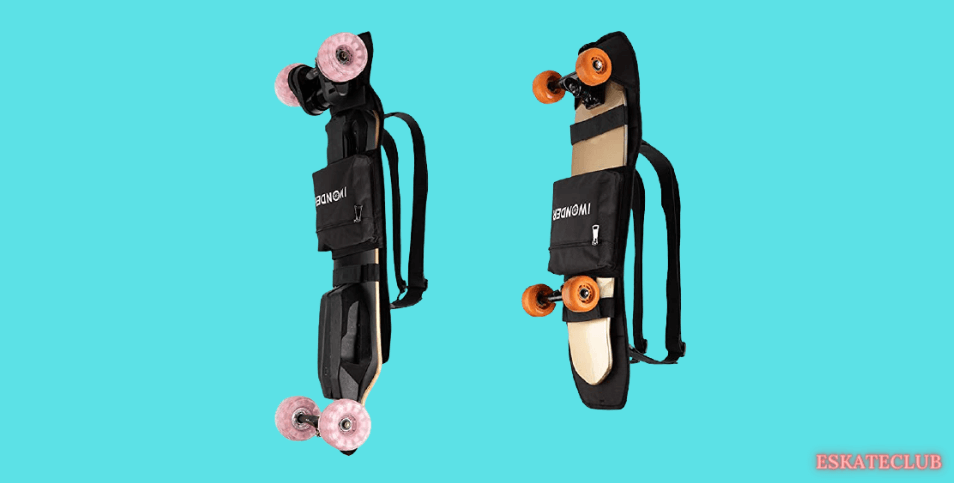 the IWONDER backpack facilitates you and frees you from the fiddle. You can free your hand from any inconvenience while entering and exiting railway stations, stores, and restaurants, as well as traveling up escalators, elevators, or stairs offers a great deal of convenience.
I WONDER Electric Skateboard Backpack has made commuting much easier by allowing you to store your skateboard, as well as giving you peace of mind. There are different further benefits of IWONDER electric skateboard backpack such as
IWONDER Electric Skateboard Backpack 80cm x 24cm x 7cm in size which is appropriate size for long board.
Polyester is the primary material for IWONDER skateboard backpacks and is made up of excellent quality, so it may not tear off and is durable.
For a longer run, the backpack must be comfortable and contended. Hence, shoulder straps are made more curved for a more comfortable fit.
I WONDER electric skateboard backpacks are specifically for a longer run. Most conventional skateboards and tiny electric skateboards up to 15.5 lbs can be held in this bag. This backpack is such a fashionable design that appeals to people of all ages.
6. MAKAR Portable Skateboard Backpacks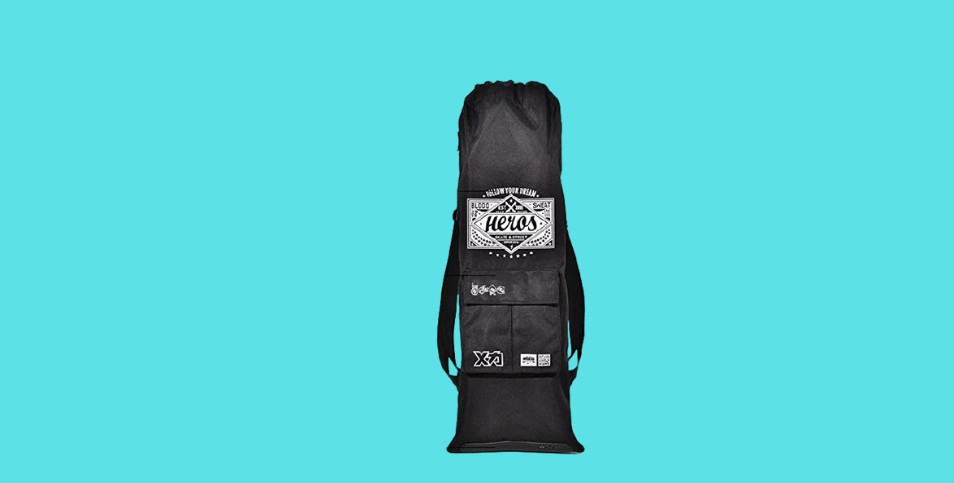 MAKAR portable skateboard backpack is universal and is made of premium quality material. This skateboard bag includes three storage pockets: one on the front that can carry phones and other small objects; one on the left side that can hold shoes; and one on the right side that can have hats, shirts, and other items.
MAKAR Portable Skateboard Backpacks is a versatile skateboard backpack bag with dimensions of 33.5 into 11.8 inches (85 into 30cm).
You can carry giant fish boards, standard boards, and anything else with a length of 80cm, a width of 20cm, and a height of 9cm in this valuable Backpack.
MAKAR Portable skateboard Backpacks are built for skateboarding. It fits the skateboard better and protects it from bumps.
Eventually, we can proudly say that this is a skateboard backpack bag specifically designed for skateboards. The fabric of the MACKAR skateboard backpack is composed of 900D Oxford cotton, which is more waterproof and durable, and the black bag is less likely to become soiled.
Conclusion
So, finally, if you have made up your mind for a long ride, go and get your backpack now. Most experienced skateboarders prefer to carry a backpack in order to support their luggage so that they may keep their hands free. Hence, if you're using an electric skateboard for travel, a good and handy backpack will assist you to secure your items on your back, such as your gear, phone, laptop, bottle, books, etc. 
FAQs
Q- How do you carry a skateboard on a backpack?
A- It's fine if you're utilizing a "longboard" or a "cruiser board." You're unlikely to fall. However, I believe that riding aboard while carrying a large backpack is not the ideal option. Get a decent protective case and go for a ride; it's probably not a smart idea, but if you're only skating for transportation, you should be fine.
Q- Is it hard to skateboard with a backpack?
A- The backpack, on the other hand, is the most challenging skate accessory. Backpacks provide a lot of space for transporting illicit items, matching outfit colors, and being simple to lose, and they can make any trick a bit (or a lot) more impressive.
Q- Do skateboards count as a carry-on?
A- You can bring a skateboard in your carry-on luggage, but it must fit within the airline's size restrictions. Your skateboard will count as a carry-on if it is under the airline's weight restrictions. This means you'll have to pack your belongings in a personal item bag.
Q- Do you need a skateboard backpack?
A- Most experienced skateboarders prefer to carry their luggage in skateboard bags so that they may keep their hands free. So, if you're utilizing the board for travel, a bag will assist you in securing your items on your back, such as your gear, phone, laptop, bottle, or books.