The electric skateboard is only cool when it is completely on the road. To have an easy and enjoyable ride, it may help to have outstanding wheels and trucks on the board. This guide will help you choose the best electric skateboard's wheel.
If you are going to make a DIY electric skateboard you would require every part of an e-board separately. One of the major components of an electric skateboard is its wheels.
Best skateboard wheels
| Image | Product | Details | Price |
| --- | --- | --- | --- |
| | IWONDER Cloud Wheel | 120mm diameter and best for off-road skateboard | Check Price |
| | Magneto kilo Volt | 90 mm diameter and high speed wheel | Check Price |
| | vanpro DIY Electric | 90 mm and come with set like wheel and 7 bearings | Check Price |
| | MBS All-Terrain Longboard Wheels | best off-road board wheel with three color | Check Price |
| | Meepo Skateboard Wheels Offset Wheels | 90mm diameter and 100 mm wheel | Check Price |
TOP 10 electric skateboard wheels
There are various types of wheels on the market today, and deciding on the best for your skateboard requires expert knowledge. By the time you want to change the wheel here are some useful tips and information.
1. IWONDER Cloud Wheel Discovery 120mm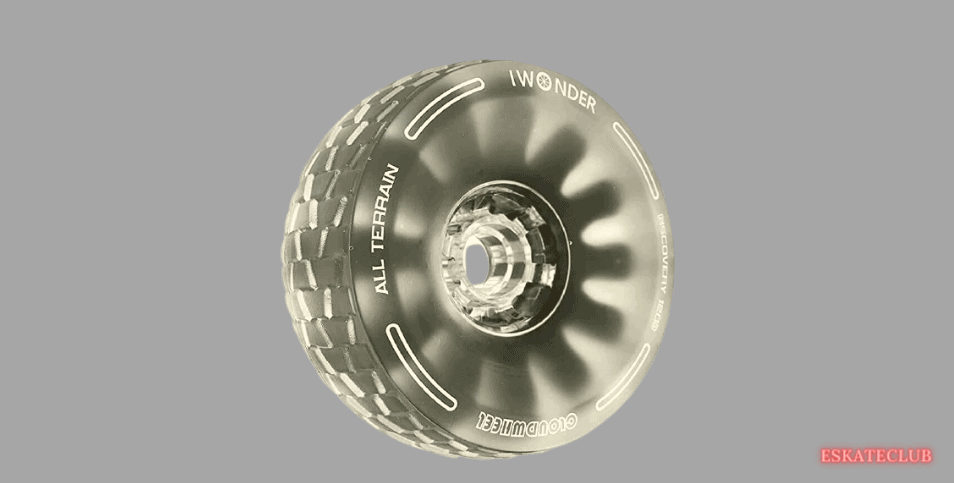 The significant components of a wheel are its diameter, wheel core, and quality. You need to look for the best package which owns all the qualities in one. Prime components of the IWONDER cloud wheel are:
With its 120mm diameter, you can enjoy a safe and fit ride.
The polyurethane wheels help you cruise around the town and are appropriate for all-terrains and off-road passageways.
IWONDER cloud wheel contains a damping core technology that helps in shock absorbance.
These wheels are made up of high-strength composite material for better impact resistance.
Curved and unique tread make it even more flexible for skids and slides
2. Magneto kilo Volt 90 mm Longboard Wheels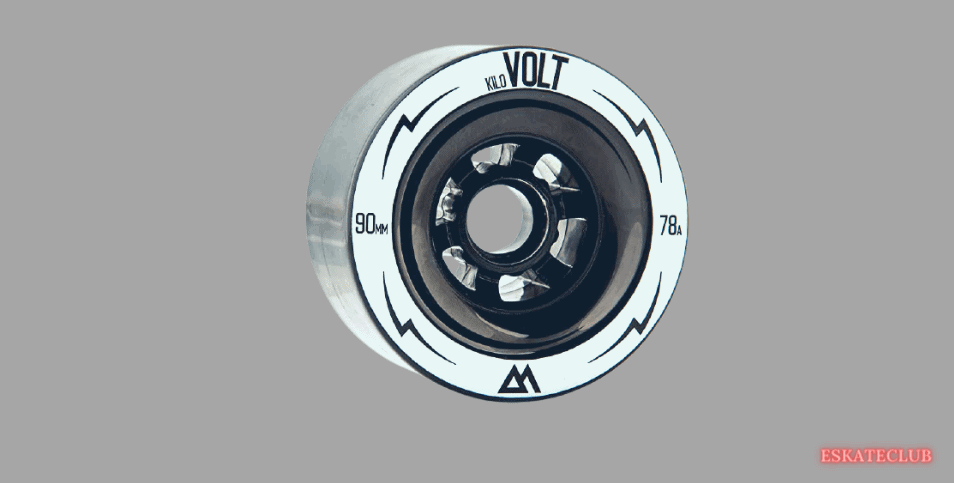 A large, strong, powerful, and comfortable pair of wheels appropriate for every type of board is a must-have for the DIYer in you. These wheels give you a robust and fun ride while experiencing the best rider in you. The top-notch components of Magneto kilo volt 90 mm longboard wheels are:
With 90 mm diameter, you can easily cruise off-road and all-terrains.
This will help you protect yourself from the strains and debris in your way.
The stiff cores of these lightweight wheels help to maintain high speed and effortless gliding.
Magneto kilovolt longboard wheels are compatible enough in the market and it manages to compete with its competitors due to remarkable features.
78A hardness makes it even more likable among riders because of its notable softness and smoothness.
3. Vanpro DIY Electric Skateboard Longboards Wheel 90MM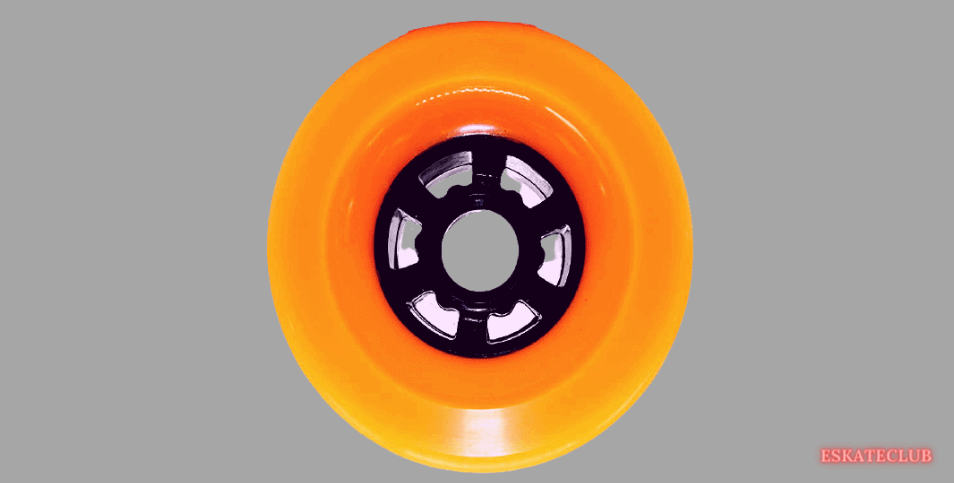 Vanpro Longboard wheels in neon green color attract the viewer instantly. These wheels are the best fit for homemade or hand-made electric skateboards. You can easily put them on without any hurdle and go for daily commuting. The major gears of Vanpro wheels are:
It owns 78A hardness like magneto kilovolt and hence can cruise on all terrains.
The diameter of Vanpro electric skateboard longboard wheels is 90 mm which is again ideal for longboards.
It contains 8 sets of ABEC 7 bearings that maintain the wheel altogether and help in riding with more confidence.
Vanpro wheels are best fit for longboards and especially for fashion freaks because it's unique to have such bewildering wheels on an e-board.
4. MBS All-Terrain Longboard Wheels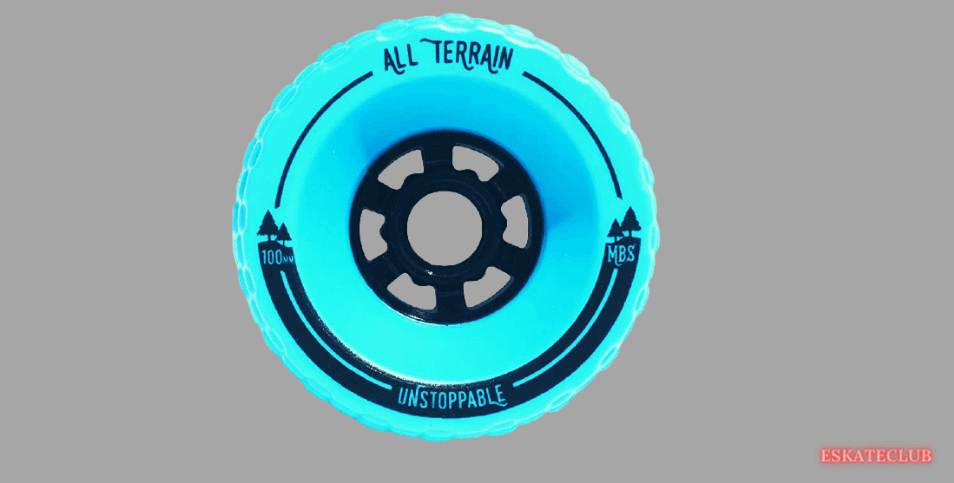 A greater diameter, casting a super hardness is all we can have in MBS all-terrain longboard wheels. A board is known for going all in the air without any jerks and make the ride an adventurous experience for the rider. Features of MBS all-terrains longboard wheels are:
Comes in all major primary colors – blue, green, and red.
The diameter of the wheels is realistic and good for practicing and learning electric skateboarding.
If you own a regular board you can turn it into an all-terrain and off-road board by smearing these wheels.
You can easily ride it on the dirt and short grass.
These wheels will prevent any kind of hurdle in your way as they are made specifically for longboards.
5. Tanzfrosch 8 Pack Roller Skate Wheels with Bearings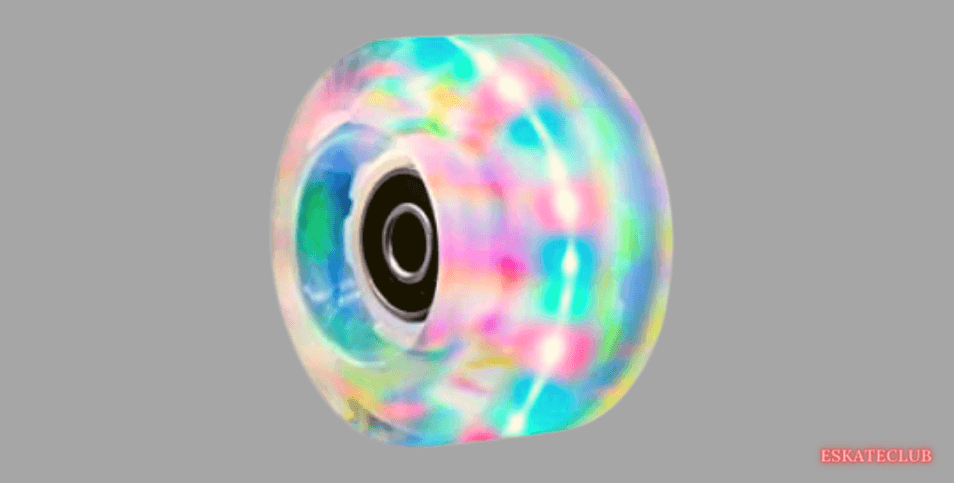 The number 1 seller brand in the competitive market produces greater quality wheels for fun and easy electric skateboarding. Tanzfrosch 8 Pack Roller Skate Wheels are strong and fast contains sturdy and durable bearing. The features of Tanzfrosch Skate Wheels are:
These wheels use a polyurethane polymer material that envokes good pressure resistance.
It comes with 4 sets of rolling bearings.
Tanzfrosch roller skate wheels are composed of a 608RS high-speed rotating bearing that promotes a smooth and fast ride.
Its outlook is so classy and hip enough to represent a young rider look cool and trendy while skateboarding.
The diameter of electric skateboarding is 58 mm feasible for double row skating.
Tanzfrosch wheels are exclusively made up of an anti-stick compound that reduces friction and gives smooth slides all the way long.
6. Shark Wheel 72 mm 78a Longboard Wheels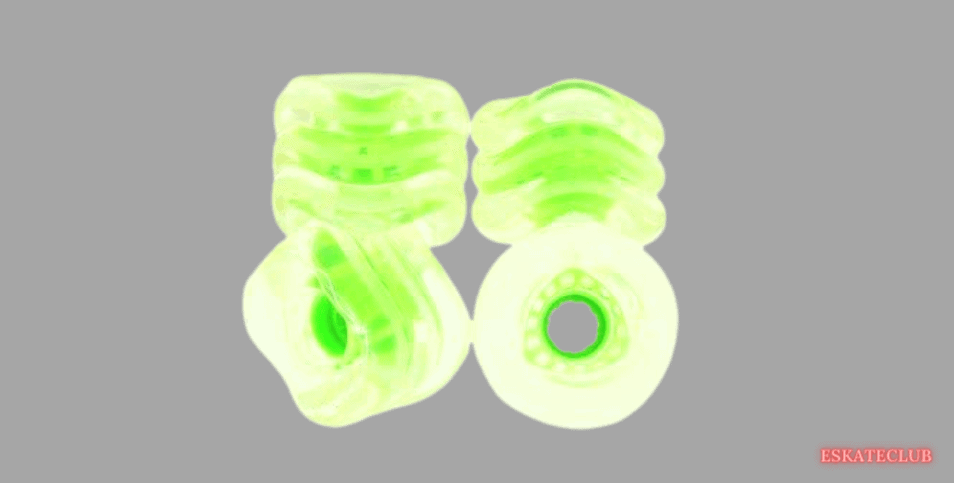 Are you in search of neon lights that would help you cruise at night? Or you are thinking of buying a product which is appropriate for day commuting too? You can have this two in one shark wheels at reasonable prices. The top component of shark wheels are:
Shark wheels come with 72 mm diameter which is quite accommodating for daily fares.
The wheel hardness is 78A.
Shark wheels are known for their smooth gliding capability.
It contains a DNA formula that makes it superior to other wheels.
7. HUYANJUN Skateboard Electric Wheels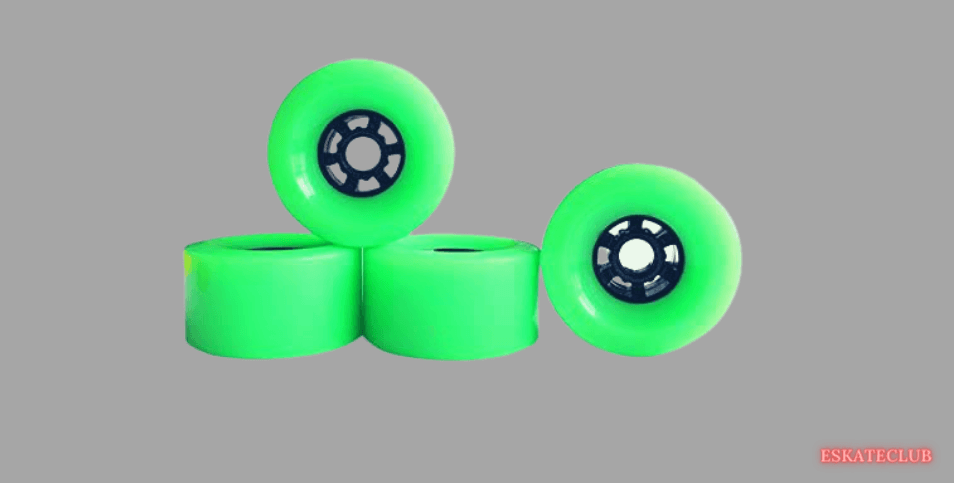 Flate-plate wheels specifically designed for electric skateboards are a good fit for roaming around the town. HUYANJUN wheels are made up of great quality material and are best for adults. Key specifications of HUYANJUN wheels for electric skateboard are:
97 mm diameter is ideal for every electric skateboard, longboard, or even kiteboard.
These wheels are made up of polyurethane material that is good for all terrains.
It contains 9 ABEC bearings which are suitable for a robust and fear-free ride.
It also contains 4 pc bearing spacers which are too good for electric skateboarding.
8. Meepo Skateboard Wheels Offset Wheels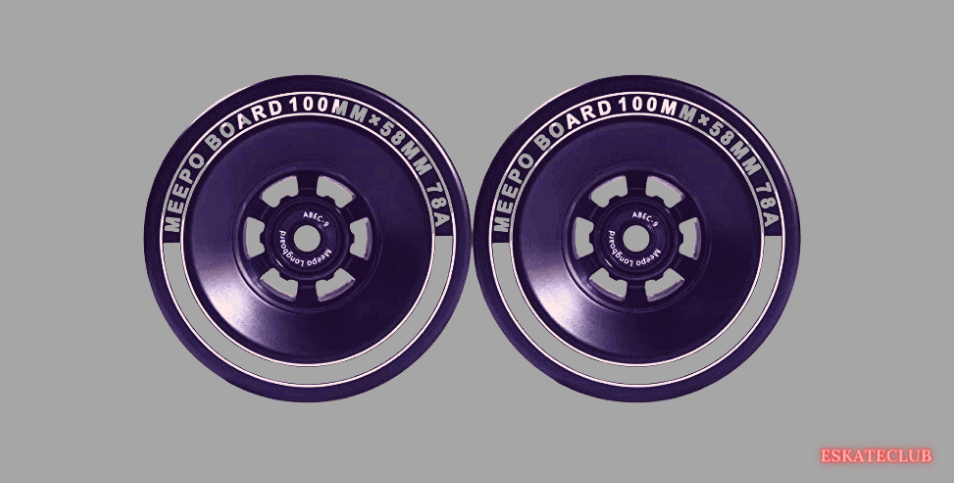 Just like Meepo electric skateboards, Meepo skateboard wheels are good for professionals and practitioners. These wheels contain all in one specification and are considered the best wheels among others. The top specifications of all-purpose wheels are:
Broad wheels with 90mm diameter and 100 mm width are good for any type of electric skateboard.
These wheels are specifically considered for offset purposes.
These durable smooth wheels are best for off-road
9. FREEDARE Skateboard Wheels 52mm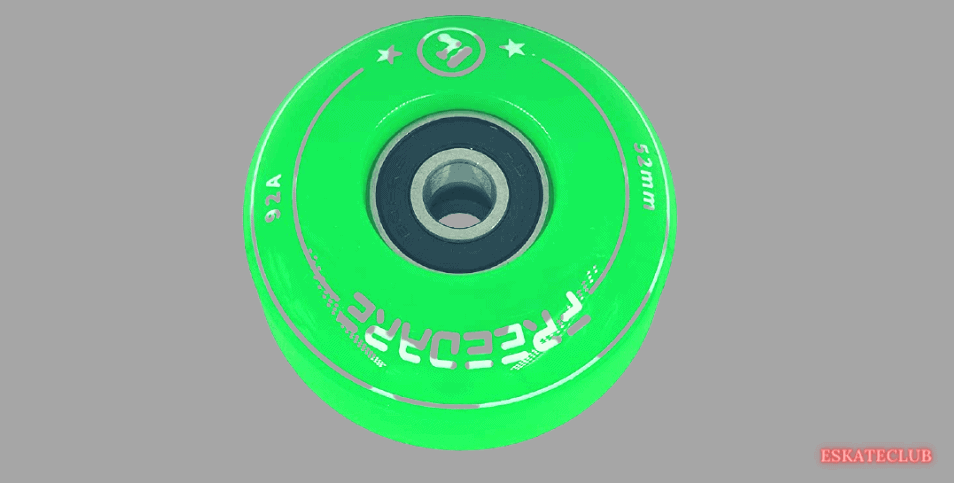 FREEDARE skateboard wheels available in 8 different colors are known for their bear rolling capability. The wheels are attractive and inviting and are best for kids and teens. Features of FREEDARE electric skateboard wheels are:
FREEDARE skateboard wheels contain 52 mm diameter which is practical for kids.
These wheels would be a perfect fit for the kid's electric skateboard and could along with the deck of an e-board.
These wheels can go off-road, on bumps, ramps, smooth way, or on the concrete.
FREEDARE are suitable wheels for kids to easily learn and practice electric skateboarding.
These wheels are good for freestyle riders and are very much convenient for street tricks and actions.
10. Cool & Fun Longboard Skateboard Wheel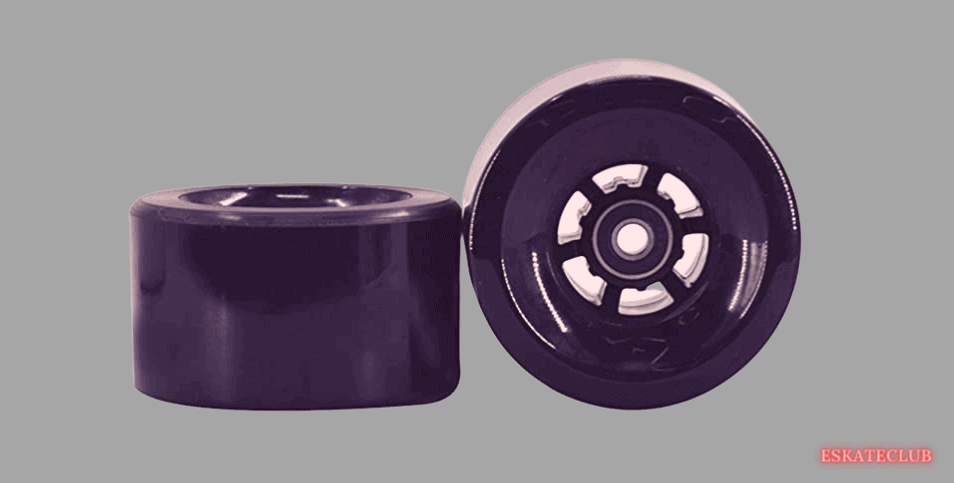 We have a suitable board to cruise around the roads. Cool & Fun electric skateboard is ideal for street skating. You can have this board roam around with high resilient PU infusion processing material.
Cool & Fun is also known for its best brand for electric skateboard and their components. So you can use it even to DIY your own electric skateboard and ride with Fun and joy.
Conclusion
It is pretty clear that wheels play a significant role in better electric skateboarding and should be bought with keen care. An ideal wheel should be of PU material that holds the maximum number of bearings and looks well.
The list, as mentioned earlier, describes some of the best electric skateboard wheels that come under an affordable price range with top-notch specifications. So if you are looking for wheels to make your own electric skateboard choose the best product out of it and buy to give yourself relief.
an electric skateboard should be appropriately maintained, hence its components, so the wheels' ultimate care life is in your hand. You can protect it from dust and debris and keep it till dawn. Ride on the board like never before and consider yourself a confident, assertive, and self-reliant rider.
FAQs
Q- What skateboard wheels are best for the street?
A- We suggest hard wheels for the skate parks and street skating on ledges, holes, rails, and manual surfaces. And the soft wheels are best for sailing, longboarding, transportation e.t.c. Street skaters and beginners on rough surfaces will benefit from medium durometer wheels.
Q- How long do electric skateboard wheels last?
A- This is one of the most challenging questions to think about when choosing which e-board to buy. For daily shuttles or long journeys, an electric skateboard's range is imperative. Depending upon the distance, every wheel owns its own life.
Q- Are Girl wheels good?
A- Girl wheels are good, and why not use them? It looks decent and chic, and of course, you can use them when needed. Only make sure you don't do too many powerslides, or they'll flatten out.
Q- Is it easier for Ollie to with smaller wheels?
A- Small wheels build landing tricks easier, though they are a very little shaky. Smaller wheels accelerate quicker than larger wheels, which is beneficial once there's simply a brief distance between you and the object, like a collection of stairs to ollie.
Q- Are soft wheels suitable for street skating?
A- More rigid wheels square measure quicker, whereas softer wheels square measure slower; however, have a lot of grips. Sleek surfaces, like skate parks, need more rigid wheels, whereas street sport needs softer wheels.
Q- Are rubber skateboard wheels good?
A- Skateboard wheels ought to be a product of Urethane (ester polymer) instead of plastic or rubber. Since plastic wheels cannot grip the bottom, you may lose your balance. The tearing of rubber wheels may be a common incidence.
Since your skateboard's wheels area unit the element that creates contact with the outside world, you'll be wanting to make sure they are high-quality. So polyurethane wheels are best among all other wheels.